Growth of Pakcoy (Brassica rapa L.) Hydroponic System Using Nutrients of Catfish Cultivation Waste
Keywords:
aerobic, anaerobic, liquid organic fertilizer, nutrition
Abstract
Organic hydroponic cultivation systems require substitute nutrients other than inorganic fertilizers as a source of plant nutrients. Catfish cultivation waste is one of the potentials that can be used as hydroponic nutrients. This study aimed to find out the concentration of Liquid Organic Fertilizer (LOF) from fish cultivation waste as a substitute for commercial inorganic nutrients on the growth of pakcoy (Brassica rapa L.).  This research was carried out in 2 stages, namely the manufacture of LOF from catfish culture waste and experiments using LOF as hydroponic nutrients. The results of this study showed that the increase in LOF nutrient content in anaerobic fermentation was higher than in aerobic fermentation. The use of LOF as a hydroponic nutrient, based on the parameters of plant height, number of leaves, SPAD value, root weight, crown weight, and dry weight obtained a smaller value that was significantly different compared to the inorganic nutrient treatment of AB mix. LOF concentration of 20%, both fermented aerobically and anaerobically, gave better growth when compared to higher concentration treatments. The nutrient content in LOF is difficult to adjust to the needs of hydroponic pakcoy, so that it will have a toxic impact on macro nutrients on the other hand, it also provides a response to micro nutrient deficiency.
Abstract viewed = 176 times
References
Ahuja, Ishita, Egidijus D, Jannicke F. Remme, Roger R, Anne KL. 2020. Fish and fish waste-based fertilizers in organic farming-with status in norway: a review. Waste Management. 115: 95–112. DOI:10.1016/ j.wasman. 2020.07.025.
Azimi, Shiva, Taranjit K, Tapan K. Gandhi. 2021. A deep learning approach to measure stress level in plants due to nitrogen deficiency. Measurement. 173: 108650. DOI: 10.1016/ j.measurement. 2020.108650.
Conversa, Giulia, Anna B, Corrado L, Antonio E. 2016. Bio-physical, physiological, and nutritional aspects of ready-to-use cima di rapa (Brassica Rapa L. Subsp. Sylvestris L. Janch. Var. Esculenta Hort.) as affected by conventional and organic growing systems and storage time. Scientia Horticulturae. 213: 76–86. DOI: 10.1016/j.scienta.2016.10.021.
Delaide, Boris, Hendrik M, Amit G, Simon G. 2019. Aerobic and anaerobic treatments for aquaponic sludge reduction and mineralisation. Aquaponics Food Production Systems. 247–66. DOI: 10.1007/978-3-030-15943-6_10.
Ezzahoui, Ibtissame, Rachida Ait Abdelouahid, Khaoula T, Abdelaziz M. 2021. Hydroponic and aquaponic farming: comparative study based on
internet of things iot technologies. Procedia Computer Science. 191: 499–504. DOI: 10.1016/j.procs.2021.07.064.
Gao, Yi Q, Ling HB, Mei LH, Ya LW, Zong YL, Hong TL, Dai YC. 2021. Long-distance blue light signalling regulates phosphate deficiency-induced primary root growth inhibition. Molecular Plant. 14 (9): 1539–53. DOI: 10.1016/ j.molp.2021.06.002.
Goddek, Simon, Boris PLD, Alyssa J, Sven W, M Haïssam Jijakli, Amit G, Ep H Eding, Ingo B, Michael R, LC Pau Keizer, Rolf M, Oliver K, Johan V, Karel JK. 2018. Nutrient mineralization and organic matter reduction performance of ras-based sludge in sequential UASB-EGSB reactors. Aquacultural Engineering. 83 (August): 10–19. DOI: 10.1016/ j.aquaeng. 2018.07.003.
Gustiar F, Munandar M, Ningsih SW, Ammar M. 2020. Biofortification of calcium on mustard (Brassica Juncea L.) and lettuce (Lactuca Sativa) cultivated in floating hydroponic system. Buletin Agroteknologi. 1 (1): 27. DOI: 10.32663/ba.v1i1.1273.
Gustiar F, Munandar M, Qasanah U, Handayani RS. 2020. Analisis pupuk organik cair air limbah budidaya ikan dengan penambahan bahan organik menggunakan metode mineralisasi aerobic dan anerobic. 978–79.
Kyaw TY, Ng Keong AK. 2017. Smart aquaponics system for urban farming. Energy Procedia. 143: 342–47. DOI: 10.1016/j.egypro.2017.12.694.
Lee, Eunseok, Prangya RR, Jaeho B. 2021. The Applicability of anaerobically treated domestic wastewater as a nutrient medium in hydroponic lettuce cultivation: nitrogen toxicity and health risk assessment. Science of The Total Environment. 780: 146482. DOI: 10.1016/J.Scitotenv.2021.146482.
Lee, Ju Yeon, Arifur R, Juliana B, Conor Brennan, Baknoon H, Hyung SK, Chu WN, Seong TY, Hossain A, Man JK 2018. Nutrient Removal from Hydroponic Wastewater by a Microbial Consortium and a Culture of Paracercomonas Saepenatans. New Biotechnology. 41 (November 2017): 15–24. DOI: 10.1016/j.nbt.2017.11.003.
Lenni, Herry S, Kudang BS, Radite PAS. 2020. Photosynthetic rate of lettuce cultivated on floating raft hydroponic with controlled nutrient solution. Hayati Journal of Biosciences. 27 (1): 31–36. DOI: 10.4308/ hjb.27.1.31.
Liu, Jiang, Jian L, Andrea GB, Shiqiang W, Caiyun Y, Dingyong W, Tao J. 2021. Anaerobic and aerobic biodegradation of soil-extracted dissolved organic matter from the water-level-fluctuation zone of the three gorges reservoir region, China. Science of the Total Environment. 764: 142857. DOI: 10.1016/ j.scitotenv. 2020.142857.
Majid, Maliqa, Junaid NK, Qazi MAS, Khalid ZM, Baseerat A, Saqib P. 2021. Evaluation of Hydroponic Systems for the Cultivation of Lettuce (Lactuca Sativa L., Var. Longifolia) and Comparison with Protected Soil-Based Cultivation. Agricultural Water Management. 245 (September): 106572. DOI: 10.1016/ j.agwat.2020.106572.
Martin-Gorriz B, Maestre-Valero JF, Gallego-Elvira B, Marín-Membrive P, Terrero P, Martínez-Alvarez V. 2021. Recycling drainage effluents using reverse osmosis powered by photovoltaic solar energy in hydroponic tomato production: environmental footprint analysis. Journal of Environmental Management. 297: 113326. DOI: 10.1016/ j.jenvman.2021.113326.
Mattson, Neil, Heinrich LJ. 2019. Liquid culture hydroponic system operation. Soilless Culture: Theory and Practice Theory and Practice. 567–85. DOI: 10.1016/ B978-0-444-63696-6.00012-8.
Riera-Vila, Ignasi, Neil OA, Claire FH, Mary R. 2019. Anaerobically-digested brewery wastewater as a nutrient solution for substrate-based food production. Horticulturae. 5 (2). DOI: 10.3390/horticulturae5020043.
Roosta, Hamid R, Mohsen H. 2011. Effects of foliar application of some macro- and micro-nutrients on tomato plants in aquaponic and hydroponic systems. Scientia Horticulturae. 129 (3): 396–402. DOI: 10.1016/ j.scienta. 2011.04.006.
Shinohara, Makoto, Chihiro A, Kazuki F, Atsunori W, Hiromi O, Yoichi U, Masao T. 2011. Microbial mineralization of organic nitrogen into nitrate to allow the use of organic fertilizer in hydroponics. Soil Science and Plant Nutrition. 57 (2): 190–203. DOI: 10.1080/ 00380768. 2011.554223.
Toshiki A. 2012. Hydroponics - A Standard Methodology for Plant Biological Researches. Intechopen: Croatia.
Van Tung, Tra, Nguyen Thi Phuong Thao, Le Quoc Vi, Tran Thi Hieu, Son Le Thanh, Sibylle Braunegg, Gerhart Braunegg, Hans Schnitzer, Le Thanh Hai. 2021. Waste treatment and soil cultivation in a zero emission integrated system for catfish farming in mekong delta, Vietnam. Journal of Cleaner Production. 288: 125553. DOI: 10.1016/ J.Jclepro.2020.125553.
Verdoliva, Salvatore G, Dylan Gwyn-Jones, Andrew D, Paul R. 2021. Controlled comparisons between soil and hydroponic systems reveal increased water use efficiency and higher lycopene and β-Carotene contents in hydroponically grown tomatoes. Scientia Horticulturae. 279.
Xie, Yankai, Marc Spiller, Siegfried E. Vlaeminck. 2021. A bioreactor and nutrient balancing approach for the conversion of solid organic fertilizers to liquid nitrate-rich fertilizers: mineralization and nitrification performance complemented with economic aspects. Science of The Total Environment. 150415. DOI: 10.1016/ J.Scitotenv.2021.150415.
Zhou, Xiaoyu, Lin Chen, Yong Li, Jianming Xu, Philip CB. 2020. Abiotic Processes dominate soil organic matter mineralization: investigating the regulatory gate hypothesis by inoculating a previously fumigated soil with increasing fresh soil inocula. Geoderma. 373: 114400. DOI: 10.1016/ j.geoderma.2020.114400.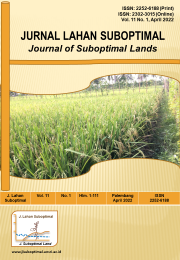 Downloads
How to Cite
Gustiar, F., Munandar, M., Amar, M., Arsi, A., Pitayati, P. A., Amanah, T. O. ., & Assyfa, N. (2022). Growth of Pakcoy (Brassica rapa L.) Hydroponic System Using Nutrients of Catfish Cultivation Waste. Jurnal Lahan Suboptimal : Journal of Suboptimal Lands, 11(1), 86–93. https://doi.org/10.36706/jlso.11.1.2022.560
License
Copyright (c) 2022 Fitra Gustiar, Munandar Munandar, M Amar, Arsi Arsi, Puspa A Pitayati, Tri O Amanah, Nadiya Assyfa
This work is licensed under a Creative Commons Attribution-NonCommercial-ShareAlike 4.0 International License.