Karakter Agronomi dan Toleransi Varietas Cabai Merah Akibat Genangan pada Fase Generatif
Keywords:
Agronomic character, red chilli, tolerance, waterlogging.
Abstract
Susilawati et al., 2012. Agronomic Characteristics and Tolerance of Red Chili Varieties under Water Logging Stress during Generative Phases. JLSO 1(1):22-30.
The research objective was  to evaluate the responses of growth and tolerance of red chilli under waterlogging stress during generative phases. Experiments were conducted in village   Alang-alang Lebar Palembang, South Sumatra, from April  to November 2010. Experimental design used was split plot with three replications. The main plot was waterlogging for 1, 2, 3 and 4 days. The subplot was  red chili varieties consisted of Kiyo F1, Bravo F1, Taro F1, Lembang 1, Laris, Riawan, Mario and Kusuma. The results showed that the maximum period of waterlogging  of Red chilli plants in the generative phase was three days. Increased duration of waterloggingduring the generative phase significantly decreased the ability of plants to survive, the number of live plants,  plant height and the number of branches. Based on the agronomic characteristics found in the study, the variety that is the most  tolerant to  waterlogging  during the generative phase was Kiyo F1.
 
Abstract viewed = 212 times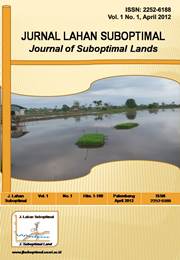 Downloads
How to Cite
Susilawati, S., Suwignyo, R. A., Munandar, M., & Hasmeda, M. (2012). Karakter Agronomi dan Toleransi Varietas Cabai Merah Akibat Genangan pada Fase Generatif. Jurnal Lahan Suboptimal : Journal of Suboptimal Lands, 1(1). https://doi.org/10.33230/JLSO.1.1.2012.5
Section
Literature review
License
Jurnal Lahan Suboptimal: Journal of Suboptimal Lands article's license is CC-BY-SA 4.0. This license lets others distribute, remix, tweak, and build upon author's work, even commercially, as long as they credit the original creation.
Authors who publish with this journal agree to the following terms:
Authors retain copyright and grant the journal right of first publication with the work simultaneously licensed under a Creative Commons Attribution License-ShareAlike (CC BY-SA 4.0) license  that allows others to share the work with an acknowledgement of the work's authorship and initial publication in this journal.
Authors are able to enter into separate, additional contractual arrangements for the non-exclusive distribution of the journal's published version of the work (e.g., post it to an institutional repository or publish it in a book), with an acknowledgement of its initial publication in this journal.
Authors are permitted and encouraged to post their work online (e.g., in institutional repositories or on their website) prior to and during the submission process, as it can lead to productive exchanges, as well as earlier and greater citation of published work (See The Effect of Open Access).