Laying Eggs of Pomacea canaliculata L. on Oryza sativa L. in Various Ways of Plant Cultivation in Village Tulus Ayu, Sub District Belitang
Keywords:
cultural technique, golden snail, rice crop
Abstract
Rice is a widely cultivated crop in Indonesia that the crop becomes a food crop with many pests and diseases. As happen in Belitang, the area many rice cultivation infested by golden snails because Belitang is a center of rice production with the biggest irrigation structure in the region. The golden snails prefer to live in submerged areas. Furthermore, the snail produces a high number of eggs in one ovulation which may produce a high number of golden snails and cause serious damage on rice to mage harvest failure. The  research of this know the number of eggs packets of golden snails laid in two rice cultivations with different ages and varieties. The method applied in the study was a survey method for which samples were taken purposively, by following certain intervals in every row of rice plants.  The observation was made to calculate the number of snail egg packets. The result showed that in the two different rice cultivation there were different numbers of snail egg packets. The difference might be caused by different environmental factors between both locations where a lower water surface caused a higher number of snail eggs. 
Abstract viewed = 159 times
References
Ayunin NQ, Achdiyat, Tri RS. 2020. Farming group members' preferences for the appropriate application of the six principles (6t) in pesticide applications. Jurnal Inovasi Penelitian. 1 (3): 253–64. DOI: 10.47492/jip.v1i3.73.
Adijaya IN, I Made RY, Luh GB. 2016. Study of control of mason conch to increase productivity of paddy paddy. In: Prosceedings Seminar Nasional Inovasi Teknologi Pertanian. Indonesia p. 794–800.
Amrullah DS, Sugianta, Ahmad J. 2014. Increased productivity of rice plants (Oryza sativa L.) through the application of nano silica. Jurnal Pangan. 23 (1): 17–32. DOI: 10.33964/jp.v23i1.46.
Anggraini F, SuryantoA, Aini N. 2013. Planting system and seedling age in rice (Oryza sativa L.) INPARI 13 varieties. Jurnal Produksi Tanaman. 1 (2): 52–60. DOI: 10.21176/protan.v1i2.19.
Anggraini W. 2018. Biodiversity in supporting the community economy of East Oku Regency. Jurnal AKTUAL. 16 (2): 99. DOI: 10.47232/aktual.v16i2.24.
Arsi, Rahmatul K, Suparman Shk, Gunawan B, Pujiastuti Y, Hamidson H, Nugraha IS, Lailatturahmi. 2021. Diversity of pests with different technical cultures on cucumber (Cucumis sativus) land in Tanjung Seteko Village, North Indralaya, Ogan Ilir Regency, South Sumatra. Jurnal Ilmiah Matematika dan Ilmu Pengetahuan Alam. 18 (1): 55–67. DOI: 10.31851/sainmatika.v18i1.5846.
Bunga JA, Franciskus XW, Witjaksono, Jafendi HPS. 2017. Feeding power, diapause and mobility of gold snails (Pomacea canaliculata) at various water depths. Jurnal Hama dan Penyakit Tumbuhan Tropika. 16 (2): 147. DOI: 10.23960/j.hptt.216147-154.
Donggulo CV, Iskandar ML, Usman M. 2017. Growth and yield of rice (Oryza sativa L.) under different jajar legowo system and planting space. J. Agroland. 24 (1): 27–35.
Gunawan CE, Gatot M, Ludji PA. 2015. Abundance of Population of brown stock photography Nilaparvata lugens Stal. (Homoptera: Delphacidae) and Spiders in cultivation rice plants with application of pest control integrated and conventional. Jurnal HPT. 3 (1): 2338–4336.
Harahap S. 2017. Methods of pest control of mas conch (Pomaceae canaliculata L.) with watering patterns and some trap baiton rice production (Oryza sativa L.). J u r n a l A g r o h i t A. 1 (2): 64–69. DOI: 10.31604/jap.v1i2.420.
Hutapea Y, Priatna S. 2017. Farmers perceptions and prospects of jajar legowo super rice cultivation in Oku Timur. In: Prosceedings Seminar Nasional Pengembangan Teknologi Pertanian (September). Indonesia p. 212–21.
Junaidi J, Djoko R. 2021. Efforts to optimize rice yield using various models of spacing and dosage of manure. Jurnal Agrinika : Jurnal Agroteknologi dan Agribisnis. 5 (1): 84. DOI: 10.30737/agrinika.v5i1.1554.
Kartika S. 2016. Rice Conch Biology. 12–33.
Kasidiyasa IW, Ni ND, I. Made MA. 2018. Population structure of Pomacea sp. pests (Mesogastropods: Ampullariidae) attacking rice fields (Oryza sativa L.) at altitudes < 500 and > 500 Mdpl in Tabanan Regency. E-Jurnal Agroekoteknologi Tropika. 7 (4): 499–509.
Manueke JBH, Assa, EA Pelealu. 2018. Pests on rice fields (Oryza sativa L.) in Makalonsow Village, East Tondano District, Minahasa Regency. Eugenia. 23 (3): 120–27. DOI: 10.35791/eug.23.3.2017.18964.
Manueke J, Berty H. Assa, Aldegonga, E. Pelealu. 2017. Technology recommendation of integrated pest control (Ipc) on wetland rice (Oryza sativa L.) pests in Makalonsow village of east tondano district in Minahasa Regency. LPPM Bidang Sains dan Teknologi. 4 (1): 23–34.
Martina I, Asep P. 2020. Effect of spacing on jajar legowo planting system on rice productivity of inpari 32 variety. Agrifor. 19 (2): 257. DOI: 10.31293/af.v19i2.4668.
Masturi H, Asyrafinafilah H, Neti K. 2021. The role of agricultural microfinance institutions for indonesian farmers' food security. Jurnal AGRIBIS. 14 (1): 1669–80. DOI: 10.36085/agribis.v14i1,%20Januari.129.
Rinaldi A, Novalia, Muhamad S. 2020. Statistika Inferensial.
Rusli R, Martinius, Dedi M. 2019. Effectiveness of several plant extracts for controlling golden snail (Pomacea canaliculata Lamark) on rice plants. Jurnal Proteksi Tanaman. 3 (1): 1–9. DOI: 10.25077/jpt.3.1.1-9.2019.
Sa'diah, Siti A, Novi DBT. 2020. Projection of national rice exports through the triple movement of Indonesian agricultural exports (Gratieks). Pamator Journal. 13 (2): 159–69. DOI: 10.21107/pamator.v13i2.8527.
Saputra D, Eri GE, Santosa. 2021. Planting pattern analysis and rice calendar planting using landsat 8 tirs oil image data in the batang anai irrigation area, Padang Pariaman Regency. Jurnal Teknologi Pertanian Andalas. 5 (1): 34–45. DOI: 10.25077/jtpa.25.1.33-45.2021.
Saputra S, Brata. 2018. Population and distribution of golden snail (pomacea canaliculata lamark) as feed esources in paddy field ecosystem in Bengkulu city. Jurnal Sain Peternakan Indonesia. 13 (2): 189–201. DOI: 10.31186/jspi.id.13.2.189-201.
Sari DE, Rahmawati A, Yusran A. 2018. Preference of Pomacea canaliculata lamatraps of natural attractants in rice croprk. Jurnal Agrominansia. 3 (2): 101–8. DOI: 10.34003/272006.
Sution S, Akhmad M, Sri S. 2020. Increased crop production with intercropping patterns of corn and upland rice at various planting distances. AGRITEPA: Jurnal Ilmu dan Teknologi Pertanian. 7 (2): 130–41. DOI: 10.37676/agritepa.v7i2.1139.
Syah H, Zulkarnaini, Fridarti. 2021. The effect of cutting age on the productivity of rice (Oryza sativa L.) as animal feed in the mina padi system. Jurnal Embrio. 13 (1): 14–20.
Syahbanuari, Yusniwati, Siska E. 2020. The Fluctuation of brown planthopper (nilaparvata lugens stal.) population at three different rice (Oryza sativa L.) varieties. Bioma : Jurnal Biologi Makassar. 5 (1): 47–59. DOI: 10.20956/bioma.v5i2.10280.
Taopik M, Widya S. 2019. Egg group density and population density of mas conch (Pomacea canaliculata Lamark) pest in Pandanwangi (Oryza sativa L.) rice field. Agroscience (Agsci). 9 (1): 1. DOI: 10.35194/agsci.v9i1.630.
Tresnaningsih T, Dedi HS, Tito H. 2016. Level of application of integrated crop management technology (PTT) in rice farming (Oryza sativa L.). Jurnal Ilmiah Mahasiswa AGROINFO GALUH. 2 (2): 131–44. DOI: 10.25157/jimag.v2i2.69.
Wijaya RF, Rahmad BU, Debi YN, Khairul K. 2019. Smart farmer application in monitoring and learning of paddy cultivation based on android. Rang Teknik Journal. 2 (1): 123–26. DOI: 10.31869/rtj.v2i1.1093.
Yuliani, Aidannisa. 2019. Test of attractiveness of pest conch mas (Pomacea canaliculata Lamark) to various bait traps in Pandanwangi rice fields. Jurnal Pro-Stek. 1 (2): 80–88. DOI: 10.35194/prs.v1i2.82.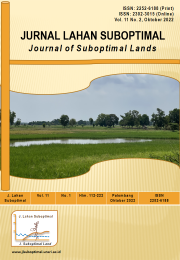 Downloads
How to Cite
Arsi, A., Jarda, E. P., SHK, S., Hamidson, H., Khodijah, K., Pujiastuti, Y., Gunawan, B., Pratama, R., & Umayah, A. (2022). Laying Eggs of Pomacea canaliculata L. on Oryza sativa L. in Various Ways of Plant Cultivation in Village Tulus Ayu, Sub District Belitang . Jurnal Lahan Suboptimal : Journal of Suboptimal Lands, 11(2), 179–186. https://doi.org/10.36706/jlso.11.2.2022.572
License
Copyright (c) 2022 Arsi Arsi, Eka Putri Jarda, Suparman SHK, Harman Hamidson, Khodijah Khodijah, Yulia Pujiastuti, Bambang Gunawan, Rahmat Pratama, Abu Umayah
This work is licensed under a Creative Commons Attribution-NonCommercial-ShareAlike 4.0 International License.