The Application of Compost Extract and Biopesticide in Three Different Varieties of Soybean (Glycine max L.)
Keywords:
soybean, compost extract, biopesticide
Abstract
Soybeans are high in protein and vegetable oil. However, soil fertility, among other factors, has resulted in low production. This study aimed to compare the effects of shrimp shells compost extract (EKKU) and Mushroom Substrate Media Compost Extract (EKMTJ) fertilizers in combination with bio-insecticides with active ingredients from Beauveria bassiana on the growth and production of soybean. This was a factorial randomised design study with two factors.  The first factor was compost extract, with P1: EKKU and P2: EKMTJ. Furthermore, the second factor is a dosage of bioinsecticides with B. bassiana active ingredients of 1 litre/ha (B1) and 2 litres/ha (B2). The results showed that the application of shrimp shell compost extract (EKKU) combined with 2 litres/ha bioinsecticide gave the best results in plant height and shoot weight. On the other hand, the application of mushroom substrate medium compost extract (EKMTJ) gave the best results for wet and dry weight of plant pods and canopy dry weight.
Abstract viewed = 74 times
References
Abirami S, Gnanamuthu G, Nagarajan D. 2022. Bioconversion of shrimp shell waste into compost preparation and its plant growth study. Indian Journal of Agricultural Research. 56 (5): 588–593. DOI: 10.18805/IJARe.A-5214.
Carrasco J, Zied DC, Pardo JE, Preston GM, Pardo-Giménez A. 2018. Supplementation in mushroom crops and its impact on yield and quality. AMB Express. 8 (1): 1–9. DOI: 10.1186/s13568-018-0678-0.
Farouk S, Mosa AA, Taha AA, El-Gahmery AM. 2011. Protective effect of humic acid and chitosan on radish (Raphanus sativus, L. var. sativus) plants subjected to cadmium stress. Journal of Stress Physiology & Biochemistry. 7 (2): 99–116.
Fathipour Y, Sedaratian A. 2013. Integrated management of Helicoverpa armigera in soybean cropping systems. Soybean-Pest Resistance. InTech, Rijeka, Croatia. 231–280. DOI: 10.5772/54522.
Głowacka A, Jariene E, Flis-Olszewska E, Kiełtyka-Dadasiewicz A. 2023. The Effect of Nitrogen and Sulphur Application on Soybean Productivity Traits in Temperate Climates Conditions. Agronomy. 13 (3). DOI: 10.3390/agronomy13030780.
Hasan N, Suryani E, Hendrawan R. 2015. Analysis of Soybean Production And Demand to Develop Strategic Policy of Food Self Sufficiency : A System Dynamics Framework. Procedia - Procedia Computer Science. 72: 605–612. DOI: 10.1016/j.procs.2015.12.169.
Heidari G, Mohammadi K, Sohrabi Y. 2016. Responses of soil microbial biomass and enzyme activities to tillage and fertilization systems in soybean (Glycine max L.) production. Frontiers in Plant Science. 7: 17-30. DOI: 10.3389/fpls.2016.01730.
Hidangmayum A, Dwivedi P, Katiyar D, Hemantaranjan A. 2019. Application of chitosan on plant responses with special reference to abiotic stress. Physiology and Molecular Biology of Plants. 25 (2): 313–326. DOI: 10.1007/s12298-018-0633-1.
Itelima JU, Bang WJ, Onyimba IA, Sila MD, Egbere OJ. 2018. Bio-fertilizers as key player in enhancing soil fertility and crop productivity: A review. Direct
Research Journal of Agriculture and Food Science, 6 (3): 73–83. DOI: 10.26765/DRJAFS.2018.4815.
Kakar K, Xuan TD, Noori Z, Aryan S, Gulab G. 2020. Effects of organic and inorganic fertilizer application on growth, yield, and grain quality of rice. Agriculture (Switzerland). 10 (11): 1–11. DOI: 10.3390/agriculture10110544.
Kartahadimaja J, Utomo SD, Yuliadi E, Salam AK, Warsono W. 2021. Agronomic characters, genetic and phenotypic diversity coefficients, and heritability of 12 genotypes of rice. Biodiversitas Journal of Biological Diversity. 22 (3): 1091–1097. DOI: 10.13057/biodiv/d220302.
Krasilnikov P, Taboada MA, Amanullah. 2022. Fertilizer Use, Soil Health and Agricultural Sustainability. Agriculture (Switzerland). 12 (4): 16–20. DOI: 10.3390/agriculture12040462.
Krisnawati A, Nuryati N, Adie MM. 2021. Assessment of Soybean Resistance to Leaf-feeding Insect, Spodoptera litura. Biosaintifika: Journal of Biology & Biology Education. 13 (1): 92–98. DOI: 10.15294/biosaintifika.v13i1.24794.
Kumar J, Ramlal A, Mallick D, Mishra V. 2021. An overview of some biopesticides and their importance in plant protection for commercial acceptance. Plants. 10 (6): 1–15. DOI: 10.3390/plants10061185.
Niwińska B, Witaszek K, Niedbała G, Pilarski K. 2020. Seeds of n-GM soybean varieties cultivated in Poland and their processing products as high-protein feeds in cattle nutrition. Agriculture. 10 (5): 174. DOI: 10.3390/agriculture10050174.
Paula FS, Tatti E, Abram F, Wilson J, O'Flaherty V. 2017. Stabilisation of spent mushroom substrate for application as a plant growth-promoting organic amendment. Journal of Environmental Management. 196: 476–486. DOI: 10.1016/j.jenvman.2017.03.038.
Rouphael Y, Cardarelli M, Schwarz D, Franken P, Colla G. 2012. Effects of drought on nutrient uptake and assimilation in vegetable crops. Plant Responses to Drought Stress: From Morphological to Molecular Features. 171–195. DOI: 10.1007/978-3-642-32653-0_7.
Santo Pereira AE, Silva PM, Oliveira JL, Oliveira HC, Fraceto LF. 2017. Chitosan nanoparticles as carrier systems for the plant growth hormone gibberellic acid. Colloids and Surfaces B: Biointerfaces. 150: 141–152. DOI: 10.1016/j.colsurfb.2016.11.027.
Sayara T, Basheer-Salimia R, Hawamde F, Sánchez A. 2020. Recycling of organic wastes through composting: Process performance and compost application in agriculture. Agronomy. 10 (11): 1838. DOI: 10.3390/agronomy10111838.
Shaji H, Chandran V, Mathew L. 2021. Organic fertilizers as a route to controlled release of nutrients. In Controlled release fertilizers for sustainable agriculture (pp. 231–245). Elsevier. DOI: 10.1016/B978-0-12-819555-0.00013-3.
Singh M, Khan MMA, Naeem M. 2016. Effect of nitrogen on growth, nutrient assimilation, essential oil content, yield and quality attributes in Zingiber officinale Rosc. Journal of the Saudi Society of Agricultural Sciences. 15 (2): 171–178. DOI: 10.1016/j.jssas.2014.11.002.
Sridhar MKC, Hammed TB. 2014. Turning waste to wealth in Nigeria: An overview. Journal of Human Ecology. 46 (2): 195–203. DOI: 10.1080/09709274.2014.11906720.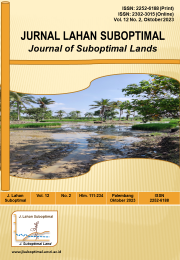 Downloads
How to Cite
Anggraini, E., Gofar, N., Pradana, T. R., Tri Patria, W., & Sinurat, D. (2023). The Application of Compost Extract and Biopesticide in Three Different Varieties of Soybean (Glycine max L.). Jurnal Lahan Suboptimal : Journal of Suboptimal Lands, 12(2), 219–226. https://doi.org/10.36706/jlso.12.2.2023.651
License
Copyright (c) 2023 Erise Anggraini, Nuni Gofar, Teguh Randi Pradana, Wahyu Tri Patria, Diana Sinurat
This work is licensed under a Creative Commons Attribution-NonCommercial-ShareAlike 4.0 International License.