Quality Assessment of Silver Arabic Chicken Eggs with the Addition of Chitosan in Rations
Keywords:
chitosan, eggs, silver arabic chickens, quality
Abstract
The quality of chicken eggs is greatly influenced by the nutrient ration consumed. Egg quality can be observed from the external and internal eggs. The ration directly affects the external and internal quality of the eggs. The research objective was to analyze the effect of chitosan addition in the ration on the internal quality of chicken eggs. The study used a completely randomized design (CRD) with 6 treatments and 5 replications, each replication consisting of 2 Silver Arabic Chickens aged 4.5 months. The study was conducted for 7 weeks. The treatments given were: R0 (control ration without chitosan), R1 (ration + chitosan 0.5%), R2 (ration + chitosan 1%), R3 (ration + chitosan 1.5%), R4 (ration + chitosan 2%), R5 (ration + chitosan 2.5%). The parameters were measured in haugh units, albumen index, albumen and yolk weight. The results demonstrate that the addition of chitosan in the ration showed the same results (P > 0.05) on the haugh unit value, albumen index, albumen and yolk weight. The conclusion of this study indicates that the provision of chitosan in the ration has not had an effect on the internal quality of the Silver Arabic Chickens eggs.
Abstract viewed = 81 times
References
Abbas, MB Paly, Rifaid. 2021. Characteristics of eggs based on age of chickens and ration given. Jurnal Ilmu Peternakan dan Veteriner Tropis (Journal of Tropical Animal and Veterinary Science). 11 (1) : 67−74
Amin NS, Anggraeni, Dihansih E. 2015. Effect of the inclusion of turmeric (Curcuma domestica) extract solution in drinking water on the quality of quail eggs. Peternakan Nusantara. 1 (2): 115−125.
Argo LB, Tristiari, Mangisah I. 2013. Physical quality of phase i laying arabic egg with various levels Azolla microphylla. Animal Agriculture Journal. 2 (1): 445−457
Djaelani MA. 2017. The quality of egg japanese quail (Coturnix coturnix japonica L.) based on variable pH, protein content, and albumin index after washing and stored in certain time. Buletin Anatomi dan Fisiologi. 2 (1): 26–30.
Habiburahman R, Darmawati S, Sumantri C, Rukmiasih. 2020. Egg Production and egg quality IPB D-1 chicken G7 and repeatabilty estimation. Jurnal Ilmu Produksi dan Teknologi Hasil Peternakan. 8 (2): 97−101. DOI: 10.29244/jipthp.8.2.97-101.
Ipek A, Sozcu A. 2017. Comparison of hatching egg characteristics, embryo development, yolk absorption, hatch window, and hatchability of pekin duck eggs of different weights. Poultry Science. 96 (10): 3593–3599. DOI: 10.3382/ps/pex181.
Ismoyowati, Purwantini D. 2013. Egg production and quality of local ducks in ducks farming center area. Jurnal Pembangunan Pedesaan. 13 (1): 11−16.
Liu B. Zhou Q, Zhu J, Lin G, Yu D, Ao T. 2020. Time course of nutritional and functional property changes in egg yolk from laying hens fed docosahexaenoic acid-rich microalgae. Poultry Science. 99 (9): 4616–4625. DOI: 10.1016/ j.psj.2020.06.007.
Lupu JSI, DA Wuri, AIR Detha. 2016. The coparison of local chicken egg quality which stored at room temperature and refrigerator temperature to air sac egg, yolk indeks, albumin indeks, haugh unit and TPC. Jurnal Veteriner Nusantara. 1 (1): 46−52.
Moran CA, Morlacchini M, Keegan JD, Fusconi G. 2019. Increasing the Omega-3 content of hen's eggs through dietary supplementation with aurantiochytrium limacinum microalgae: effect of inclusion rate on the temporal pattern of docosahexaenoic acid enrichment, efficiency of transfer, and egg characteristics. Journal of Applied Poultry Research. 28 (2): 329–338. DOI: 10.3382/japr/pfy075.
Necidová L. Bursová Š. Ježek F. Haruštiaková D. Vorlová L. and Golian J. 2019. Effect of preservatives on the shelf-life and sensory characteristics of pasteurized liquid whole egg stored at 4°C. Poultry Science. 98 (11): 5940–5948. DOI: 10.3382/ps/pez378.
Purwati D, Djaelani MA, Yuniwarti EYW. 2015. Egg yolk index (IKT), haugh unit (HU) and egg weight in various local ducks in Central Java. Jurnal Biologi. 4 (2): 1−9.
Purba IE, Warnoto, Zain B. 2018. The use of moringa leaves (Moringa oleifera) in the ration on the quality of laying chicken eggs from the age of 20 months. Jurnal Sain Peternakan Indonesia. 13 (4): 377–387.
Ramadhani N, Herlina, Pratiwi AC. 2018. Comparison of protein content in chicken eggs with visible light spectrophotometry method. Jurnal Ilmiah Farmasi. 6 (2): 53−56.
Sahara E, Sandi S, Yosi F. 2020. Chitosan inhibition test against e. coli and digestibility of the ration in the in vitro method. Jurnal Pendidikan Matematika dan IPA. 11 (2): 230−242.
Sahara E, Sandi S, Yosi F, Alexa R. 2020. The effect of chitosan in the ration on the performance of arab silver chicken. JINTP. 2 (1): 35−41.
Sahara E, Sandi S, Yosi F. 2020. Product development of chicken arab eggs silver (Silver brakel Kriel) low in fat and cholesterol by additing chitosan in rations. JNTTIP. 2 (3): 120−126.
Thohari I, Jaya F, Ajeng NAR. 2020. The addition of acetic acid on functional properties of duck eggs white. Jurnal Teknologi Hasil Peternakan. 1 (1): 25−33. DOI: 10.24198/jthp.v1i1.23977.
Tugiyanti E, Iriyanti N. 2012. External quality of layer eggs that get rate with the addition of fermented fish flour using isolate anti histamin producer. Jurnal Aplikasi Teknologi Pangan. 1 (2): 44−47.
United States Department of Agriculture (USDA). 2000. Egg Grading Manual. Agricultural Handbook, No. 75: Wasington DC.
Widarta IWR. 2017. Egg technology. PS. Ilmu dan Teknologi Pangan Unud: Indonesia.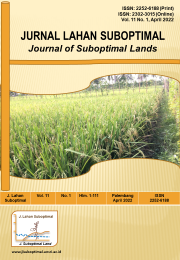 Downloads
How to Cite
Sahara, E., Sandi, S., Yosi, F., & Nanda, R. (2022). Quality Assessment of Silver Arabic Chicken Eggs with the Addition of Chitosan in Rations. Jurnal Lahan Suboptimal : Journal of Suboptimal Lands, 11(1), 34–41. https://doi.org/10.36706/jlso.11.1.2022.544
License
Copyright (c) 2022 Eli Sahara, S Sandi, F Yosi, R Nanda
This work is licensed under a Creative Commons Attribution-NonCommercial-ShareAlike 4.0 International License.