Effect of Fermentation Extracts against Bemisia tabaci on Chilli Pepper (Capsicum annuum)
Keywords:
chili pepper yellow leaf curl virus, whitefly, spraying and drenching
Abstract
This experiment was aimed to determine the effects of application of fermentation extracts on the development of pepper yellow leaf curl and whitefly on chilli. Experiment arranged in a completely randomized block design with four treatments (water as control, fermentations extracts named TSNGlu, BP4, and BP4Glu). The results showed symptoms in the form of curling of young leaves. The color of the leaves was relatively green. Yellow symptoms commonly found when severe were not found in the experiment. The symptoms of severe disease are marked in yellow at the top of the leaf and remain green at the bottom. The laboratory used 350 lux (underexposed light) so the symptoms become slight. ack of light intensity made plants etiolated and could not carry out photosynthesis properly. Each experiment consisted of 4 fermentation extract treatments. Each treatment. Overall, all treatments without fermentation and also AUDPC of the disease did not significantly affect the treatment of fermented extract both the incidence and severity of the low pepper yellow leaf curl virus. The treatment by spraying did not significantly affect the population of whitefly, except at 7 days after infestation, inversely proportional to the spraying treatment by means of discharge significantly affected from 14 days after infestation. The increase in plant height spray treatment did not have a significant effect and for spraying treatment with extraction of fermentation did not significantly affect the canopy area of ​​the plant canopy.
Abstract viewed = 52 times
References
Adilah NF, Hidayat SH. 2014. Severity of yellow curly leaf disease and growth of whitefly populations in several genotypes of intensity of yellow leaf curl disease and population growth of whitefly on chilli pepper genotypes. Indonesian Journal of Phytopathology. 10: 195-201.
Akhsan N, Palupi PJ. 2015. Effect of time on blast disease intensity and the existence of pyricularia grisea (Cooke) sacc spores. In Rice Fields (Oryzae Sativa) in North Samarinda District. 40.
Azis AC, Dharma A, Sumarji. 2017. Resistance Test of Six Tomato Plant Lycopersicum Esculentum Mill. Against Begomovirus, Ejunral. Fp. Iniska. p. 1–7.
Bawder FC, Kleczkowski A. 2018. Studies on the Ability of Light to Counteract The Inactivating Action of Ultraviolet Radiation on Plant Viruses. Journal of Gen Microbiology. (1955): 370–382.
Fajarfika, Hartono R, Sedyo S, Sri S, Susamto. 2015. Detection of molecular causes of yellow disease (tomato chlorosis virus and tomato infectious chlorosis virus) in tomato plants. 19(2): 80–88.
Gunaeni N, Wulandari A, Hudayya A. 2015. Effect of plant extracts on pathogenesis related proteins and salicylic acid in inducing resistance to red chilli plants against curly yellow virus. Journal of Horticulture. 25 (2): 160−170.
Imron M, Sulandari S, Suryanti. 2015. The role of arbuscular mycorrhizal fungus on the development of yellow curly leaves disease. Indonesian Plant Protection Journal. 19 (2): 94–98.
Inayati A, Marwoto. 2015. Technical culture as a basis for pest control bemisia tabaci genn. in soybean crops. 25 (29): 14−25.
Pahlawan AR, Wibisono S. 2017. Implementation of Case Based Reasoning for Diagnosis Systems. p. 155–162.
Phabiola, Aaganta, Yuliadhi KA. 2017. Relationship between population of kebul lice (Bemisia Tabaci) (Gennadius) (Hemiptera: Aleyrodidae) with yellow disease in tomato plants (Solanum Lycopersicum Mill.) In Marga Tengah Hamlet, Kerta' Village. Ejurnal Tropical Agroecotechnology. 6 (3): 339–348.
Popko, M. Michalak, Izabela, W, Radoslaw, Gramza, M, Chojnacka, Katazyna Gorecki, Henryk. 2018. The effect of the new plant growth biostimulants based on amino acids on yield and grain quality of, molecules. p. 1–13.
Putri RA, Sulandari S, Arwiyanto T. 2018. Singkat brief communication of the effectiveness of rizosfer Streptomyces Sp. to suppress pepper yellow leaf curl virus in large chilli plants in the field effectiveness of Rhizobacteria Streptomyces Sp. to suppress pepper yellow leaf curl virus on chilli in the field. 14 (September). p. 183−188.
Ramadhani R, Purnamaningsih SL. 2013. Appearance of ten red chilli (Capsicum Annuum L.) genotypes the performance of ten red pepper genotypes (Capsicum Annuum L.). Journal of Plant Production. 1 (2): 33–41.
Ridwan M, Prastia B. 2015. Utilization of three types of vegetable pesticides to
control aphids leaves cause of leaf kriting disease in red chilli plants.
Sari SL, Sudirja R, Sofyan T. 2017. Application of pco plus in former red brick mine land against P, Ca and B uptake as well as large red chilli (Capsicum Annuum L.). Journal of Agriculture. 28 (2): 68–73.
Setiasih NH. 2016. Influence of fluorescent lamp power on the growth of pak choi's plant (Brassica Rapa L.) on indoor hydroponic systems the influence of neon lamps on the growth of pak choi (Brassica Rapa L.) inan indoor hydroponic system. 5 (2): 93–100.
Park JE, Junho Kim, Erdenetsogt Purevdorj, Yang-JuSon, Chu WonNho, Gyhye Yoo. 2021. Effects of long light exposure and drought stress on plant growth and glucosinolate production in pak choi (Brassica rapa subspchinensis). Food Chemistry V340, 15 March 2021: 1−8. DOI: 10.1016/j.foodchem.2020.128167.
Singarimbun, Monica A, Pinem, Mukhtar I, Oemry S. 2017. Relationship between population of kebul lice (Bemisia tabaci genn.) and the occurrence of yellow disease in chilli (Capsicum Annum l.) relantionship. Journal of Agroecotechnology. 5 (4): 847–854.
Supyani, Widadi, Sri H, Wahyu J, Andriyani. 2017. Effectiveness of Four O'clock Flower Leaf Extract for the Control of Pea Mosaic Disease. 1 (1): 33–40.
Sharma HSS, Colin Fleming, Chris Selby, JR Rao & Trevor Martin. 2014. Plant biostimulants: a review on the processing of macroalgae and use of extracts for crop management to reduce abiotic and biotic stresses. Journal of Applied Phycology. 26: 465–490.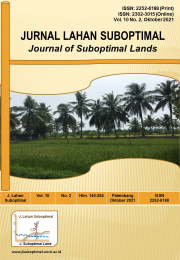 Downloads
How to Cite
Putra Munandar, R. ., & Suwandi, S. (2021). Effect of Fermentation Extracts against Bemisia tabaci on Chilli Pepper (Capsicum annuum) . Jurnal Lahan Suboptimal : Journal of Suboptimal Lands, 10(2), 233–243. https://doi.org/10.36706/jlso.10.2.2021.493
License
Copyright (c) 2021 Jurnal Lahan Suboptimal: Journal of Suboptimal Lands
This work is licensed under a Creative Commons Attribution 4.0 International License.
Jurnal Lahan Suboptimal: Journal of Suboptimal Lands article's license is CC-BY-SA 4.0. This license lets others distribute, remix, tweak, and build upon author's work, even commercially, as long as they credit the original creation.
Authors who publish with this journal agree to the following terms:
Authors retain copyright and grant the journal right of first publication with the work simultaneously licensed under a Creative Commons Attribution License-ShareAlike (CC BY-SA 4.0) license  that allows others to share the work with an acknowledgement of the work's authorship and initial publication in this journal.
Authors are able to enter into separate, additional contractual arrangements for the non-exclusive distribution of the journal's published version of the work (e.g., post it to an institutional repository or publish it in a book), with an acknowledgement of its initial publication in this journal.
Authors are permitted and encouraged to post their work online (e.g., in institutional repositories or on their website) prior to and during the submission process, as it can lead to productive exchanges, as well as earlier and greater citation of published work (See The Effect of Open Access).