Potret Budidaya Padi Lebak oleh Petani Lokal di Kecamatan Pemulutan, Ogan Ilir, Sumatera Selatan
Keywords:
cropping intensity, intensification, productivity, crop diversification, technology adoption
Abstract
Lindiana, et al. Rice Cultivation Images by Local Farmers in Pemulutan District, Ogan Ilir, South Sumatra. JLSO 5(2):153-158.
 
Plans and efforts in increasing rice productivity at riparian wetlands can be commenced by introducing relevant technologies; however, the selected technologies should be based on real needs or problems faced by local farmers. As a pre-requisite, if the needs and problems are not comprehensively understood, government intervention to introduce new technology may not be effective since the technology may not be relevant or affordable to local farmers. Objectives of this research are to analyze characteristics of the wetlands, farmer's adoption capacity, and technological preferences. The research was conducted in five villages at Pemulutan District. Qualitative Grounded Theory and Quantitative Survey were employed through dialogues with 100 local farmers.  Results of the research indicated that any effort to increase riparian wetland productivity should consider the unpredictability of flood occurrences and prolonged drought. These unfavorable conditions have limited local farmers to only grow rice once per year. Local farmers were almost solely depending on rice and cultivation of other crops were rarely observed, except limited vegetables grown on elevated border of paddy fields.
< /br> Abstract viewed = 92 times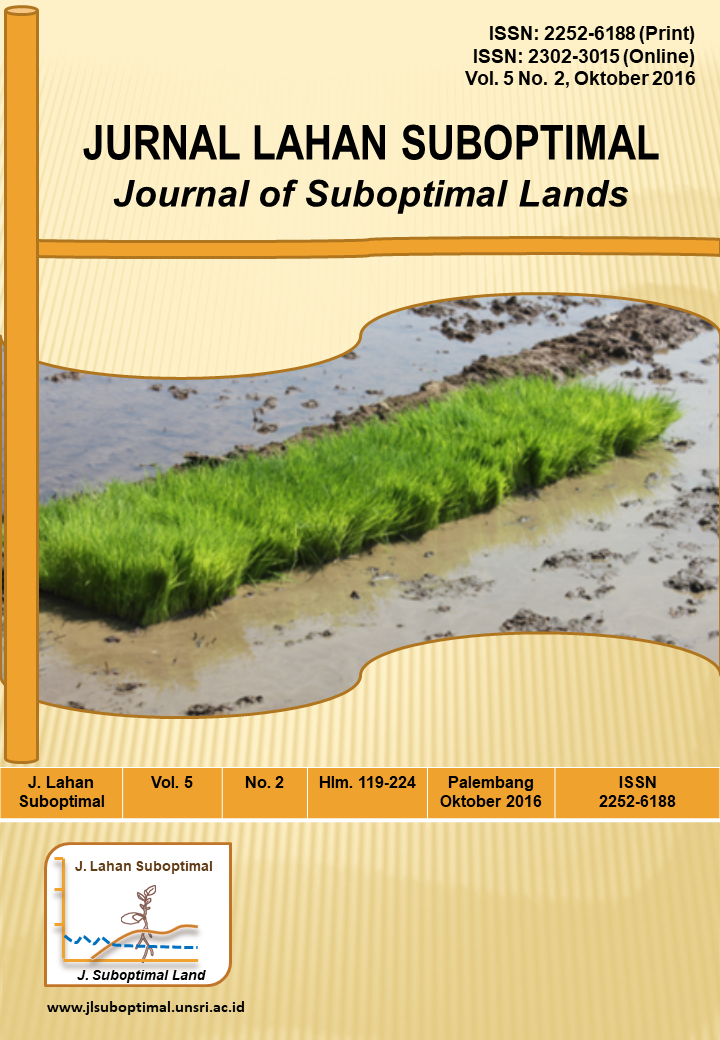 Downloads
Additional Files
How to Cite
Lindiana, L., Lakitan, B., Herlinda, S., Kartika, K., Widuri, L. I., Siaga, E., & Meihana, M. (2018). Potret Budidaya Padi Lebak oleh Petani Lokal di Kecamatan Pemulutan, Ogan Ilir, Sumatera Selatan. Jurnal Lahan Suboptimal : Journal of Suboptimal Lands, 5(2), 153–158. https://doi.org/10.33230/JLSO.5.2.2016.264
License
Jurnal Lahan Suboptimal: Journal of Suboptimal Lands article's license is CC-BY-SA 4.0. This license lets others distribute, remix, tweak, and build upon author's work, even commercially, as long as they credit the original creation.
Authors who publish with this journal agree to the following terms:
Authors retain copyright and grant the journal right of first publication with the work simultaneously licensed under a Creative Commons Attribution License-ShareAlike (CC BY-SA 4.0) license  that allows others to share the work with an acknowledgement of the work's authorship and initial publication in this journal.
Authors are able to enter into separate, additional contractual arrangements for the non-exclusive distribution of the journal's published version of the work (e.g., post it to an institutional repository or publish it in a book), with an acknowledgement of its initial publication in this journal.
Authors are permitted and encouraged to post their work online (e.g., in institutional repositories or on their website) prior to and during the submission process, as it can lead to productive exchanges, as well as earlier and greater citation of published work (See The Effect of Open Access).