Inclusive and Sustainable Management of Suboptimal Lands for Productive Agriculture in Indonesia
Keywords:
Agriculture, innovation, local wisdom, technology, traditional knowledge
Abstract
There are uncountable research activities and technology development efforts have been carried out in Indonesia; however, very limited economically and/or socially beneficial technologies have been created. Very few indigenous technologies have been used in producing goods and providing services, including in agricultural sector. This problem is rooted on facts that most of the technologies developed are not relevant to real needs and/or problems of domestic farmers. Even if the technologies are substantially relevant; in many cases, they are not finacially affordable by domestic farmers, do not significantly increase profit if used, and/or less competitive compared to similar available technologies in the market. Limited availability of resources, at present and even more scarse in the future, elevates expectation on technology to contribute in establishing inclusive, productive, and sustainable agricultural development. To assure that developed technology will be relevant to the needs and contribute to agricultural development, farmers ought to be play significant active roles during priority setting, planning, and developing the technology. The real issues at present are increase in food demand as consequence of population growth and conversion of arable lands for uses in other sectors. These trends have led to intensifying agricultural activities on suboptimal lands. Efforts to increase agricultural productivity in suboptimal lands should not jeopardize sustainable function of the ecosystem and participation of local farmers. Sustainability and inclusivity should be maintained while increasing productivity. Traditional knowledge and local wisdom have to be treated as reference for developing technology for establishing productive agriculture on suboptimal lands.
Abstract viewed = 131 times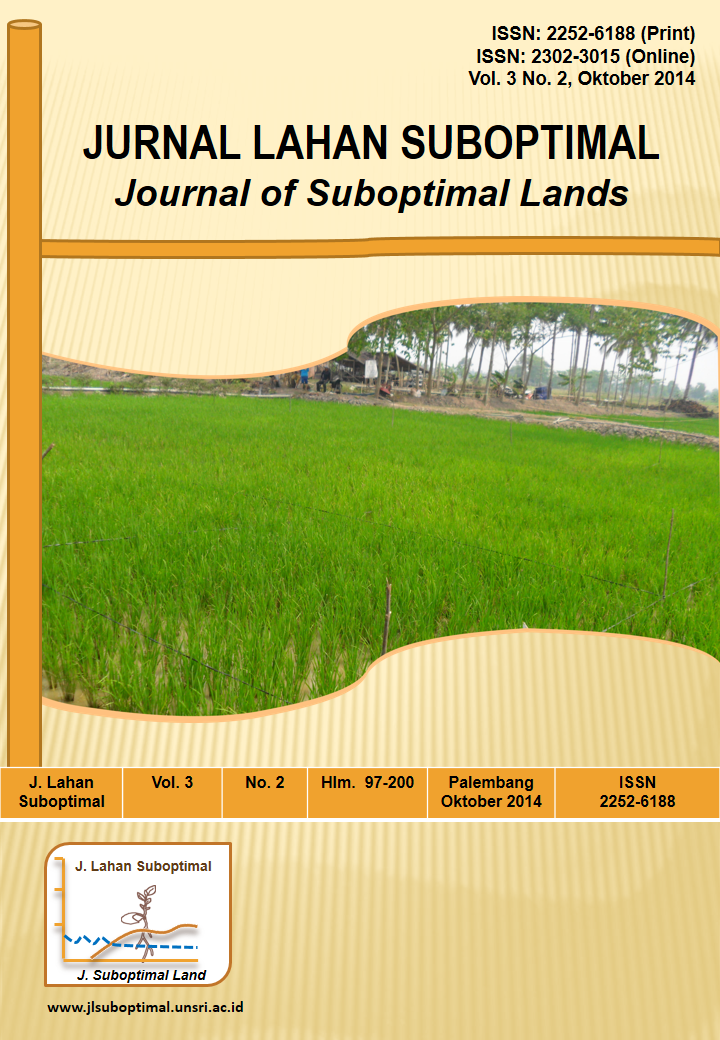 Downloads
How to Cite
Lakitan, B. (2016). Inclusive and Sustainable Management of Suboptimal Lands for Productive Agriculture in Indonesia. Jurnal Lahan Suboptimal : Journal of Suboptimal Lands, 3(2). https://doi.org/10.33230/JLSO.3.2.2014.126
License
Jurnal Lahan Suboptimal: Journal of Suboptimal Lands article's license is CC-BY-SA 4.0. This license lets others distribute, remix, tweak, and build upon author's work, even commercially, as long as they credit the original creation.
Authors who publish with this journal agree to the following terms:
Authors retain copyright and grant the journal right of first publication with the work simultaneously licensed under a Creative Commons Attribution License-ShareAlike (CC BY-SA 4.0) license  that allows others to share the work with an acknowledgement of the work's authorship and initial publication in this journal.
Authors are able to enter into separate, additional contractual arrangements for the non-exclusive distribution of the journal's published version of the work (e.g., post it to an institutional repository or publish it in a book), with an acknowledgement of its initial publication in this journal.
Authors are permitted and encouraged to post their work online (e.g., in institutional repositories or on their website) prior to and during the submission process, as it can lead to productive exchanges, as well as earlier and greater citation of published work (See The Effect of Open Access).