Pemanfaatan Lahan Tadah Hujan untuk Budidaya Padi Unggul dalam Menghadapi Perubahan Iklim
Keywords:
methane emission, rainfed area, rice cultivation
Abstract
Kartikawati et al, 2017. Utilization of Rainfed Rice Areas for High Yielding Rice Cultivation on Climate Change. JLSO 6(2):142-149.
Many efforts have been conducted by Indonesian government for national food supply and food security through rice cultivation on sub optimal lands in accelerating food sustainability particularly rice, maize and soybean. The rainfed area is an important sub optimal land which should be developed due to 26,5% of Indonesia rice production produced from cultivation system in those area. However, the cultivation in rainfed areas have challenges such as changing of rainfall pattern due to climate change. Therefore, to obtain the information of productivity from high yield rice varieties and methane emission in rainfed area, a study has been conducted by applying innovation of environmental friendly technology such as fertilizer use based on integrated cropping calendar. The study was carried out at Research Station of Indonesian Agriculture Environment Research Institute in Jakenan, which is one of rainfed area in Pati District, Central Java Province. The study was conducted on first growing season (GS 1) or rainy season by applying direct seeded system using rice seeder. Four rice varieties were used for this study, namely Ciherang, Dendang, Inpari 31 and Inpari 24. The study showed that productivity of four rice varieties were 5.92; 7.10; 5.06 and 7.41 t/ha, respectively. Methane emission was significant different among the varieties as 232; 319; 300 and 405 kg/ha/season, respectively.
Abstract viewed = 50 times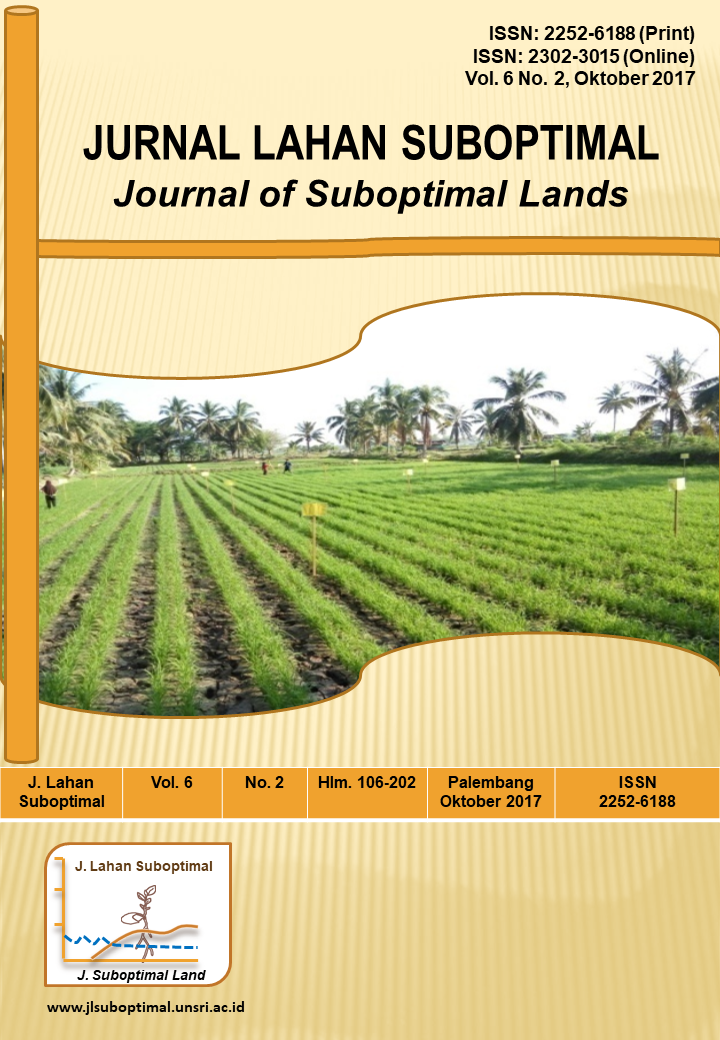 Downloads
How to Cite
Kartikawati, R., Yunianti, I. F., Wihardjaka, A., & Setyanto, P. (2018). Pemanfaatan Lahan Tadah Hujan untuk Budidaya Padi Unggul dalam Menghadapi Perubahan Iklim. Jurnal Lahan Suboptimal : Journal of Suboptimal Lands, 6(2), 142–149. https://doi.org/10.33230/JLSO.6.2.2017.195
License
Jurnal Lahan Suboptimal: Journal of Suboptimal Lands article's license is CC-BY-SA 4.0. This license lets others distribute, remix, tweak, and build upon author's work, even commercially, as long as they credit the original creation.
Authors who publish with this journal agree to the following terms:
Authors retain copyright and grant the journal right of first publication with the work simultaneously licensed under a Creative Commons Attribution License-ShareAlike (CC BY-SA 4.0) license  that allows others to share the work with an acknowledgement of the work's authorship and initial publication in this journal.
Authors are able to enter into separate, additional contractual arrangements for the non-exclusive distribution of the journal's published version of the work (e.g., post it to an institutional repository or publish it in a book), with an acknowledgement of its initial publication in this journal.
Authors are permitted and encouraged to post their work online (e.g., in institutional repositories or on their website) prior to and during the submission process, as it can lead to productive exchanges, as well as earlier and greater citation of published work (See The Effect of Open Access).