Kinerja Beberapa Tipe Moisture Meter dalam Penentuan Kadar Air Padi
Keywords:
accuracy, allowed quality limit, moisture meter, precision, reproducibility, rough rice
Abstract
Fahroji et al, 2016. Evaluation of Moisture Meters Performance on Determination of Water Content of Rough Rice. JLSO 5(1):62-70.
Moisture content is an important parameter for determining of rice quality. The water content of rough rice affects on milling process because if water content is high, more than 14% of high will result broken rice. The purpose of this research is to study the reliability of moisture meters on determination of the water content of rice grain, accuracy, precision and reproducibility. The sample of measurement are rough rice with 5 different water contents (12%, 14%, 16%, 18% and 20%), while the equipments to be evaluated are the resistance type of moisture meters (Gwon1, Gwon2 and Gwon3), the capacitance type (Kett and Gac), the direct method (type infrared and hot air oven). AOAC method is used as a standard because of its more accurate than the other methods. The result showed that moisture meters performed strong relation with moisture content measured by AOAC as the reference. Kett meter was more accurate than the other moisture meters. All meters showed not satisfied in reliability indicator including accuracy, as well as for Allowed Quality Limit (AQL). Measurement of precision value of resistance type moisture meters indicated high precision and reproducibility from 3 meters are not satisfied.

< /br> Abstract viewed = 606 times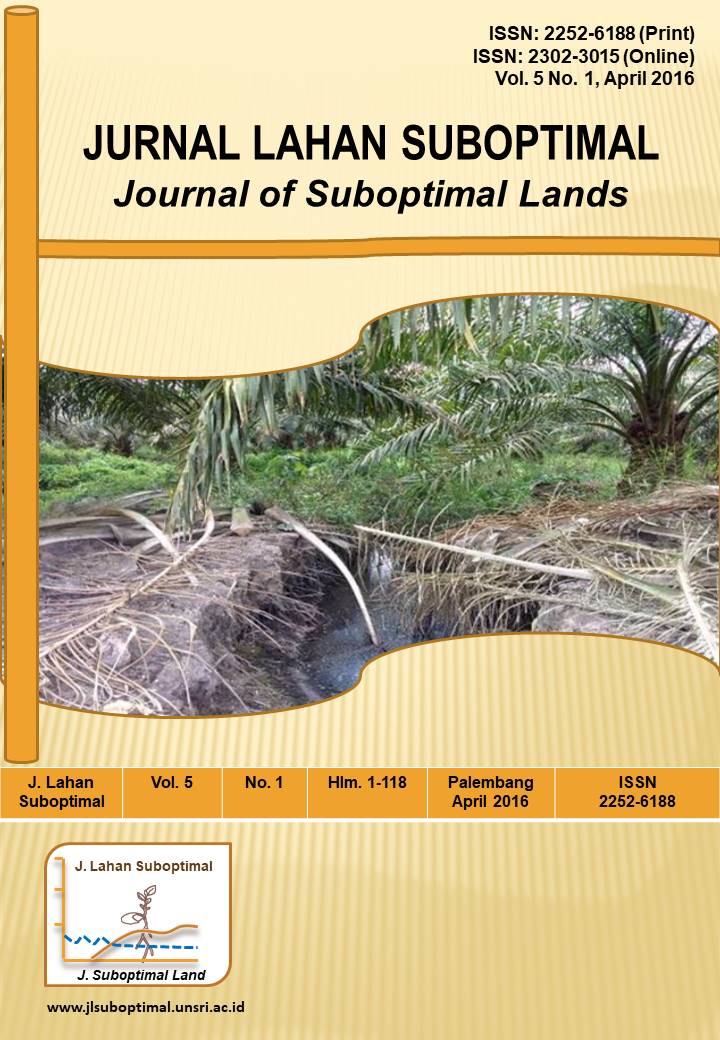 Downloads
How to Cite
Fahroji, F., & Hendri, H. (2017). Kinerja Beberapa Tipe Moisture Meter dalam Penentuan Kadar Air Padi. Jurnal Lahan Suboptimal : Journal of Suboptimal Lands, 5(1), 62–70. https://doi.org/10.33230/JLSO.5.1.2016.232
License
Jurnal Lahan Suboptimal: Journal of Suboptimal Lands article's license is CC-BY-SA 4.0. This license lets others distribute, remix, tweak, and build upon author's work, even commercially, as long as they credit the original creation.
Authors who publish with this journal agree to the following terms:
Authors retain copyright and grant the journal right of first publication with the work simultaneously licensed under a Creative Commons Attribution License-ShareAlike (CC BY-SA 4.0) license  that allows others to share the work with an acknowledgement of the work's authorship and initial publication in this journal.
Authors are able to enter into separate, additional contractual arrangements for the non-exclusive distribution of the journal's published version of the work (e.g., post it to an institutional repository or publish it in a book), with an acknowledgement of its initial publication in this journal.
Authors are permitted and encouraged to post their work online (e.g., in institutional repositories or on their website) prior to and during the submission process, as it can lead to productive exchanges, as well as earlier and greater citation of published work (See The Effect of Open Access).