Verticulture of Lettuce (Lactuca sativa L.) in the Growick Irrigation System with Various Wick Widths
Keywords:
growick irrigation system, lettuce, verticulture, wick width
Abstract
The growick irrigation system is an underground irrigation that can prevent plant water loss because it directly wets the root area. The use of the width of the wick in the growick irrigation system is can meet the water needs of the growing media. The aimed of this study were to determine the effect of wick width using the growick irrigation system on the growth and yield of lettuce grown vertically. This research was conducted from April to May 2021. The research location was in the Experimental and Research Station, Faculty of Agriculture, Fisheries, and Biology, University of Bangka Belitung. The study was conducted using a randomized block design experimental method (RBD) which consisted of 5 levels of treatment. The treatment consisted of control, wick width 0.5, 1, 1.5, 2 cm.  The result shows that width of the wick of the growick and verticulture irrigation systems affected the crop water consumption but had no significant effect on the growth parameters and yield of lettuce. The treatment of 0,5 cm wick width tends to be better in supporting the growth and yield of lettuce in the vertical cultivation systems.
Abstract viewed = 61 times
References
Adimihardja SA, Hamid G, Rosa E. 2013. The effect of combination of cow compost and fertimix on growth and production of two cultivars of lettuce (Lactuca sativa L.) in Floating Raft Hydroponic Systems. Jurnal Pertanian. 4 (1): 6–20. DOI: 10.30997/jp.v4i1.64.
Ardriani S, Rahmayanti HD, Akmalia N. 2019. Capillary analysis of water on fabrics. Jurnal Fisika. 9 (2): 47–51. DOI: 10.15294/jf.v9i2.21394.
Amuddin, Sumarsono J. 2015. Design of plant watering equipment with automatic pump drip irrigation system on dry. Jurnal Ilmiah Rekayasa Pertanian dan Biosistem. 3 (1): 95–101. DOI: 10.29303/jrpb.v3i1.8.
Febrianti L. 2022. Cultivation of letucce (Lactuca sativa L.) in post-tin mining tailings media with treatment of various width of the irigation wick of the growick system. [Skripsi]. Balun Ijuk: Universitas Bangka Belitung.
Felipe AJB, Bareng JLR. 2022. Growth and yield assessment of lettuce (Lactuca sativa L.): an economic feasibility and performance evaluation of capillary wick irrigation system. Plant Sci. Today [Internet]; 9 (1): 62–69. DOI: 10.14719/pst.1460.
Hakim MAR, Sumarsono, Sutarno. 2019. Growth and production of two varieties of lettuce (Lactuca sativa L.) at different shade levels by hydroponic method. Agro Complex. 3 (1): 15–23. DOI: 10.14710/joac.3.1.15-23.
Hasyim M, Mirajuddin M. 2013. Assistance in making velticulture media for planting medicinal plants in maximizing home yards. Seri Pengabdian Masyarakat 2013. 2 (2): 82–87.
Inonu I, Apriyadi R, Utari D. Lestari AW. 2021. Amelioration of postmining tin tailings media with coconut husk in pakcoy (Brassica rapa L. chinensis) cultivation with growick irrigation system. Agrosintek. 5 (1): 27–33. DOI: 10.15243/jdmlm.2021.082.2595.
Inonu I, Hambali R, Pratama D, Lestari AW. 2021. Effect of wick application of growick irrigation system on pakcoy cultivation on sand tailings media from post-tin mine land. Jurnal Pengelolaan Lahan Terdegradasi dan Pertambangan. 8 (2): 2595–2600. DOI: 10.15243/jdmlm.2021.082.2595.
Maulidiya T, Suminarti EN. 2022. Effect of volume and frequency of water administration on microenvironment, growth and garlic plants (Allium sativum). Journal of Agricultural Science. 7 (1): 17–27. DOI: 10.21776/ub.jpt.2022.007.1.3.
Novitasari D. 2018. Responses of lettuce growth and production (Lactuca sativa L.) to differences in planting media composition and time intervals of liquid organic fertilizer application. [Thesis] Bandar Lampung: Faculty of Agriculture of Universitas Lampung.
Nugroho DB, Maghfoer MD, Herlina N. 2017. Growth and yield of lettuce plants (Lactuca sativa L.) due to Biourin and Vermicompost. Jurnal Produksi tanaman. 5 (4): 600–607. DOI: 10.18196/pt.2017.073.127-131.
Nurjumadil M, Hermawati, Adil, Mustarin A. 2018. Development of drip irrigation system with gravity automatic control system using lipstick. Jurnal Pendidikan Teknologi Pertanian. 4: 82–87. DOI: 10.26858/jptp.v4i2.6615.
Pamungkas HS, Putri RBA, Muliawati RS. 2013. Lettuce cultivation in carpet system hydroponic verticulture. Agrosains. 15 (2): 41–45. DOI: 10.20961/agsjpa.v15i2.18998.
Pomalingo MF, Setiawan RPA, Subrata IDM. 2017. Design and functional performance test of ROVERGARD drive and control system. JTEP Jurnal Keteknikan Pertanian. 5 (1): 7–14. DOI: 10.19028/jtep.05.1.7-1.
Rai IN. 2018. Agronomy Basics. Udayana University Denpasar: Pelawa Sari. p. 265.
Sakinah PA. 2017. The Effect of Capillary Irrigation and How to Apply Fertilizer on the Growth and Yield of Purple Eggplant Plants [Thesis]. Bogor: Institut Pertanian Bogor.
Sari VK, Eliyatiningsih, Asmono SL. 2016. Introduction of Urban Agriculture through Verticulture Cultivation System as Eco-Education for Santri and Santriwati of Ath Thoybah Foundation in Jember City. In: Proceedings Seminar Hasil Penelitian dan Pengabdian Masyarakat Dana BOPTN. Jember, Indonesia p.192-196.
Situmorang AA, Saleh E, Mursidi R. 2012. Test the rate of capitarity and combustion of castor oil using the stove wick as a reference in designing a castor oil stove. Jurnal Teknik Pertanian Sriwijaya. 1 (2): 111–118.
USDA National Nutrient Database for Standart Referece. 2018. Lettuce Green Leaf, Basic Report, The National Agricaltural Library.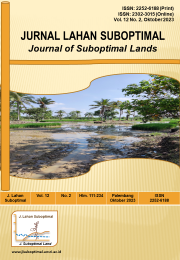 Downloads
How to Cite
Mellisa, M., Inonu, I., & Saputra, H. M. (2023). Verticulture of Lettuce (Lactuca sativa L.) in the Growick Irrigation System with Various Wick Widths. Jurnal Lahan Suboptimal : Journal of Suboptimal Lands, 12(2), 111–120. https://doi.org/10.36706/jlso.12.2.2023.628
License
Copyright (c) 2023 Mellisa Mellisa, Ismed Inonu, Herry Marta Saputra
This work is licensed under a Creative Commons Attribution-NonCommercial-ShareAlike 4.0 International License.