Pertumbuhan Bibit Karet Okulasi Berbagai Umur pada Media Tergenang
Keywords:
bibit karet, genangan, umur bibit
Abstract
Luas areal lahan kering untuk budidaya perkebunan yang terbatas sehingga lahan rawa yang tergolong lebak dangkal menjadi alternatif untuk tempat budidaya perkebunan karet. Adaptasi tanaman karet terhadap genangan perlu diteliti. Penelitian ini bertujuan mengkaji respon pertumbuhan berbagai umur bibit karet dari stum mata tidur terhadap tinggi genangan air. Penelitian ini dilaksanakan di kebun percobaan Fakultas Pertanian Universitas Musi Rawas pada ketinggian 110 m dpl pada bulan Maret sampai Juni 2012. Penelitian ini menggunakan Rancangan Petak Berbagi (RPB) dengan tiga kali ulangan, tinggi genangan sebagai petak utama dan umur bibit sebagai anak petak. Perlakuan tinggi genangan (petak utama) terdiri dari tanpa genangan, genangan tinggi 5 cm, 15 cm dan 25 cm. Genangan diberikan selama 3 bulan. Perlakuan umur bibit terdiri dari 2 level, yaitu 3 bulan dan 5 bulan. Hasil penelitian menunjukkan bahwa bibit tanaman karet dapat bertahan hidup 3-12 minggu tergantung tinggi genangan
< /br> Abstract viewed = 133 times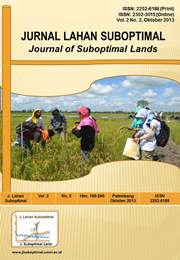 Downloads
How to Cite
Holidi, H., Safriyani, E., & Sutejo, S. (2014). Pertumbuhan Bibit Karet Okulasi Berbagai Umur pada Media Tergenang. Jurnal Lahan Suboptimal : Journal of Suboptimal Lands, 2(2). https://doi.org/10.33230/JLSO.2.2.2013.69
License
Jurnal Lahan Suboptimal: Journal of Suboptimal Lands article's license is CC-BY-SA 4.0. This license lets others distribute, remix, tweak, and build upon author's work, even commercially, as long as they credit the original creation.
Authors who publish with this journal agree to the following terms:
Authors retain copyright and grant the journal right of first publication with the work simultaneously licensed under a Creative Commons Attribution License-ShareAlike (CC BY-SA 4.0) license  that allows others to share the work with an acknowledgement of the work's authorship and initial publication in this journal.
Authors are able to enter into separate, additional contractual arrangements for the non-exclusive distribution of the journal's published version of the work (e.g., post it to an institutional repository or publish it in a book), with an acknowledgement of its initial publication in this journal.
Authors are permitted and encouraged to post their work online (e.g., in institutional repositories or on their website) prior to and during the submission process, as it can lead to productive exchanges, as well as earlier and greater citation of published work (See The Effect of Open Access).