The Ethnobotany and Ethnomedicine of Zanthoxylum acanthopodium in Lake Toba, North Sumatra, Indonesia
Keywords:
andaliman , botany , essential oil , traditional medicine , propagation
Abstract
Zanthoxylum acanthopodium is a nutritional plant utilized for both culinary and medicinal purposes. The herb, popularly known as andalimanis found in sloppy, barren, cultivated lands and secondary forests in Lake Toba, North Sumatra. This study aimed to provide an ethnobotanical description, productivity  and propagation, essential oil of andaliman and the application as traditional medicine in Lake Toba. Botanical characters were collected by observing phenology and distilling essential oils. The ethnomedicine information was collected through in-depth interviews with farmers and herbal practitioners, meanwhile, phytochemical content was identified based on various primary literature. Results showed flowering period occurs  from March until April and followed by fruiting in May to September. Fruits were widely processed as cooking spices for various cuisines. It played an important role in local people's diet by supplying carbohydrate, minerals and vitamins. This ingredient was favoured for its citrus-colored oil content and a spicy taste with an appetizing aroma. This spice was also utilized in traditional medicine. Both dry and fresh fruits were used for gums and dental disorders as dyspepsia or lotion for scabies. Fresh roots were also used to cure dental problems. All plant plants contain essential oil with a higher concentration in fruits (4.89%). The local wisdom also reveals the essential oil utilization as an antimicrobial ingredient that could be further processed as a food preservative. To increase generative propagation, seed dormancy breaking treatment through a low-intensity burning can increase the germination rate.
Abstract viewed = 85 times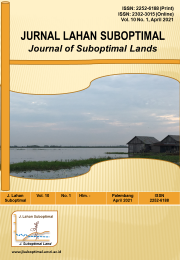 Downloads
How to Cite
Kholibrina, C. R. ., & Aswandi, A. . (2021). The Ethnobotany and Ethnomedicine of Zanthoxylum acanthopodium in Lake Toba, North Sumatra, Indonesia. Jurnal Lahan Suboptimal : Journal of Suboptimal Lands, 10(1), 78–90. https://doi.org/10.36706/JLSO.10.1.2021.526
License
Copyright (c) 2021 Jurnal Lahan Suboptimal : Journal of Suboptimal Lands
This work is licensed under a Creative Commons Attribution 4.0 International License.
Jurnal Lahan Suboptimal: Journal of Suboptimal Lands article's license is CC-BY-SA 4.0. This license lets others distribute, remix, tweak, and build upon author's work, even commercially, as long as they credit the original creation.
Authors who publish with this journal agree to the following terms:
Authors retain copyright and grant the journal right of first publication with the work simultaneously licensed under a Creative Commons Attribution License-ShareAlike (CC BY-SA 4.0) license  that allows others to share the work with an acknowledgement of the work's authorship and initial publication in this journal.
Authors are able to enter into separate, additional contractual arrangements for the non-exclusive distribution of the journal's published version of the work (e.g., post it to an institutional repository or publish it in a book), with an acknowledgement of its initial publication in this journal.
Authors are permitted and encouraged to post their work online (e.g., in institutional repositories or on their website) prior to and during the submission process, as it can lead to productive exchanges, as well as earlier and greater citation of published work (See The Effect of Open Access).