The Ethnobotany and Ethnomedicine of Zanthoxylum acanthopodium in Lake Toba, North Sumatra, Indonesia
Keywords:
andaliman , botany , essential oil , traditional medicine , propagation
Abstract
Zanthoxylum acanthopodium is a nutritional plant utilized for both culinary and medicinal purposes. The herb, popularly known as andalimanis found in sloppy, barren, cultivated lands and secondary forests in Lake Toba, North Sumatra. This study aimed to provide an ethnobotanical description, productivity  and propagation, essential oil of andaliman and the application as traditional medicine in Lake Toba. Botanical characters were collected by observing phenology and distilling essential oils. The ethnomedicine information was collected through in-depth interviews with farmers and herbal practitioners, meanwhile, phytochemical content was identified based on various primary literature. Results showed flowering period occurs  from March until April and followed by fruiting in May to September. Fruits were widely processed as cooking spices for various cuisines. It played an important role in local people's diet by supplying carbohydrate, minerals and vitamins. This ingredient was favoured for its citrus-colored oil content and a spicy taste with an appetizing aroma. This spice was also utilized in traditional medicine. Both dry and fresh fruits were used for gums and dental disorders as dyspepsia or lotion for scabies. Fresh roots were also used to cure dental problems. All plant plants contain essential oil with a higher concentration in fruits (4.89%). The local wisdom also reveals the essential oil utilization as an antimicrobial ingredient that could be further processed as a food preservative. To increase generative propagation, seed dormancy breaking treatment through a low-intensity burning can increase the germination rate.
Abstract viewed = 285 times
References
Al Muzafri. 2019. Antimicrobial activity test of andaliman extract (Zanthoxylum acanthopodium DC) on Staphylococus aureus. Jurnal Sungkai. 7(1): 122–26. DOI: 10.30606/js.v7i1.1742.
Ali, Babar, Naser Ali Al-Wabel, Saiba Shams, Aftab Ahamad, Shah Alam Khan, Firoz Anwar. 2015. Essential oils used in aromatherapy: a systemic review. Asian Pacific Journal of Tropical Biomedicine. 5(8): 601–11. DOI: 10.1016/j.apjtb.2015.05.007.
Asbur Y, Khairunnisyah. 2018. Utilization of andaliman (Zanthoxylum Acanthopodium DC) as a plant that produces essential oils. Jurnal Kultivasi. 17(1): 537–43.
Aswandi A, CR Kholibrina. 2017. Restoring the Lake Toba ecosystem. Bina Media Perintis: Medan, Indonesia.
Aswandi A, Kholibrina CZ. 2020. Potency of Sumatran camphor essential oil (Drybalabops atomatica Gaertn.) for herbal medicine raw material. Jurnal Farmasi Udayana. 9(3): 171–79. DOI: 10.24843/JFU.2020.v09.i03.p05.
Bhatt, Vinod, Neeraj Kumar, Upendra Sharma, Bikram Singh. 2018. Comprehensive metabolic profiling of Zanthoxylum Armatum and Zanthoxylum Acanthopodium leaves, bark, flowers and fruits using ultra high performance liquid chromatography. Separation Science Plus. 1(5): 311–24. DOI: 10.1002/sscp.201800004.
Casler, Michael D. 2015. Fundamentals of experimental design: guidelines for designing successful experiments. Agronomy Journal. 107(2): 692–705. DOI: 10.2134/agronj2013.0114.
Jie, Yue, Shiming Li, Chi Tang Ho. 2019. Chemical composition, sensory properties and application of sichuan pepper (Zanthoxylum Genus). Food Science and Human Wellness. 8(2):115–25. DOI: 10.1016/j.fshw.2019.03.008.
Junaedi DI, Y Nurlaeli. 2019. Ecology of Zanthoxylum Acanthopodium: specific leaf area and habitat characteristics. Biodiversitas Journal of Biological Diversity. 20(3): 732–37. DOI: 10.13057/biodiv/d200317.
Katzer G. 2012. Sichuan Pepper and Others (Zanthoxylum Piperitum, Simulans, Bungea Num, Rhetsa, Acanthopodium). http://www. uni-graz.
Mank, Valerii, Tetyana Polonska. 2016. Use of natural oils as bioactive ingredients of cosmetic products. Ukrainian Food Journal. 5(2). DOI: 10.24263/2304-974X-2016-5-2-7.
Natasutedja, Alfredo Oktavianto, Erika Lumbantobing, Emita Josephine, Lioni Carol, Decky Indrawan Junaedi, Suluh Normasiwi, Agus Budiawan Naro Putra. 2020. Botanical aspects, phytochemicals and health benefits of andaliman (Zanthoxylum Acanthopodium). Indonesian Journal of Life Sciences. 2(1): 8–15.
Nordstokke, David, S Mitchell Colp. 2014. Factorial Design. pp. 2144–45 in Encyclopedia of Quality of Life and Well-Being Research. Dordrecht: Springer Netherlands.
Omondi, Stephen F, David W. Odee, George O. Ongamo, James I. Kanya, Damase P. Khasa. 2016. Synchrony in leafing, flowering, and fruiting phenology of senegalia senegal within lake baringo woodland, kenya: implication for conservation and tree improvement. International Journal of Forestry Research 2016: 1–11. DOI: 10.1155/2016/6904834.
Phuyal, Nirmala, Pramod Kumar Jha, Pankaj Prasad Raturi, Sumitra Gurung, Sangeeta Rajbhandary. 2019. Essential oil composition of Zanthoxylum Armatum leaves as a function of growing conditions. International Journal of Food Properties. 22(1): 1873–85. DOI: 10.1080/10942912.2019.1687517.
Rai A, S Rai, R Yonzone. 2013. Ethno Medicinal plants used by the people of darjeeling hills in the eastern Himalaya. Universal Journal of Pharmacy of Pharmacy. 2(1): 122-134.
Rajendra Y, R Samuel. 2016. Zanthoxylum Acanthopodium DC. (Rutaceae)-a favourable ethnomedicinal fruit for the local inhabitants of darjeeling himalaya of west bengal, India. Journal of Complementary Medicine & Alternative Healthcare. 1(1): 001-004. DOI: 10.19080/JCMAH.2016.01.555554.
Rubio Neto, Aurélio, Fabiano Guimarães Silva, Juliana De Fátima Sales, Edésio Fialho dos Reis, Marcus Vinícius Vieira da Silva, Apolyana Lorraine Souza. 2012. Effect of drying and soaking fruits and seeds on germination of macaw palm (Acrocomia Aculeata [Jacq.] Loddiges Ex MART.). Acta Scientiarum. Agronomy. 34(2): 179-185. DOI: 10.4025/actasciagron.v34i2.11752.
Susanti N, E Situmorang, W Fitri. 2020. Effectiveness of the antibacterial activity of n-hexane andaliman (Zanthoxylum Acanthopodium DC) extract against Bacillus Subtilis, Salmonella Typhi, and Staphylococcus Aureus. Journal of Physics: Conference Series. 1462(1): 1-7. DOI: 10.1088/1742-6596/1462/1/012072.
Yonzone R, RB Bhujel, S Rai. 2012. Medicinal wealth of darjeeling hills used against various ailments. Ad. Plant Sci. 25(2): 603–607.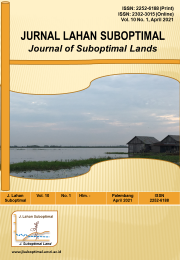 Downloads
How to Cite
Kholibrina, C. R. ., & Aswandi, A. . (2021). The Ethnobotany and Ethnomedicine of Zanthoxylum acanthopodium in Lake Toba, North Sumatra, Indonesia. Jurnal Lahan Suboptimal : Journal of Suboptimal Lands, 10(1), 78–90. https://doi.org/10.36706/JLSO.10.1.2021.526
License
Copyright (c) 2021 Cut Rizlani Kholibrina, Aswandi Aswandi
This work is licensed under a Creative Commons Attribution-NonCommercial-ShareAlike 4.0 International License.