Community Based Peat Conservation
Keywords:
peat, ecosystem, conservation
Abstract
Manalu A. 2020. Community based peat conservation. Jurnal Lahan Suboptimal: Journal of Suboptimal Lands 9(1): 11-22.

Peat forms naturally in swamp areas when dead plants rot and accumulate, which then decompresses and accumulates within hundreds to thousands of years. Peat can store 20 times more carbon than mineral soil. Indonesia's peatlands store about 46 Gt of carbon or around 8-14% of world peat carbon (Maltby and Immirizi, 1993). Peat has an important ecosystem that acts as a protector of the Earth's atmosphere from the greenhouse effect, ecological buffer, saves biodiversity and a place to live for various flora and fauna. Peat have the ability to resemble sponges which make them suitable as water catchment areas. The purpose of this study is to provide an overview of the importance of protecting and maintaining peatlands as protectors of the Earth's atmosphere, controlling global climate by involving the community. This research was conducted with qualitative descriptive methods taken from various literature and national media. The results showed that land degradation has occurred due to the extensive conversion of peatlands into plantations which in the process of causing environmental damage and peat ecosystems in various regions of Indonesia. For this reason, community-based peat conservation needs to be done so that sustainability is maintained and the community gets economic benefits from peatlands.
Abstract viewed = 127 times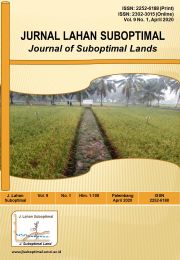 Downloads
How to Cite
Manalu, A. (2020). Community Based Peat Conservation. Jurnal Lahan Suboptimal : Journal of Suboptimal Lands, 9(1), 11–22. https://doi.org/10.33230/JLSO.9.1.2020.439
License
Jurnal Lahan Suboptimal: Journal of Suboptimal Lands article's license is CC-BY-SA 4.0. This license lets others distribute, remix, tweak, and build upon author's work, even commercially, as long as they credit the original creation.
Authors who publish with this journal agree to the following terms:
Authors retain copyright and grant the journal right of first publication with the work simultaneously licensed under a Creative Commons Attribution License-ShareAlike (CC BY-SA 4.0) license  that allows others to share the work with an acknowledgement of the work's authorship and initial publication in this journal.
Authors are able to enter into separate, additional contractual arrangements for the non-exclusive distribution of the journal's published version of the work (e.g., post it to an institutional repository or publish it in a book), with an acknowledgement of its initial publication in this journal.
Authors are permitted and encouraged to post their work online (e.g., in institutional repositories or on their website) prior to and during the submission process, as it can lead to productive exchanges, as well as earlier and greater citation of published work (See The Effect of Open Access).