Pemanfaatan Lahan di bawah Tegakan Kelapa di Lampung
Keywords:
Coconut plantations, Intercrops, Soil fertility
Abstract
Lampung is one of the central areas of coconut plantations in Indonesia, covering an area of about 126,129 ha.  Approximately 80% of land under coconut can be used for other crops and livestock. Types of plants that can be cultivated in between coconut plants (intercrops) include perennial crops such as cocoa and banana, annual crops such as corn, soybeans and upland rice, depending on the local climate and soil conditions. Constraints in land use under the coconut tree were solar radiation and soil fertility (low fertility soil as a growing medium). Dry land in Lampung is generally acidic soil with a pH below 5 in which the availability of nutrients, especially P is low. Efforts should be made to improve the fertility of the land, including the application of inoculum solvent phosphate on acid soils, the use of organic fertilizers and bio-fertilizers with the right dose according to the condition of the land. Observations were conducted at several villages which the centers of coconut plantations in the South Lampung regency.  In these villages, only about 30% of the total area under coconut trees was used for intercrops. Types of plants for intercrops were maize, bananas, and upland rice.
Abstract viewed = 652 times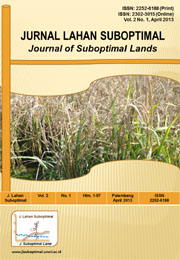 Downloads
How to Cite
Barus, J. (2013). Pemanfaatan Lahan di bawah Tegakan Kelapa di Lampung. Jurnal Lahan Suboptimal : Journal of Suboptimal Lands, 2(1). https://doi.org/10.33230/JLSO.2.1.2013.37
License
Jurnal Lahan Suboptimal: Journal of Suboptimal Lands article's license is CC-BY-SA 4.0. This license lets others distribute, remix, tweak, and build upon author's work, even commercially, as long as they credit the original creation.
Authors who publish with this journal agree to the following terms:
Authors retain copyright and grant the journal right of first publication with the work simultaneously licensed under a Creative Commons Attribution License-ShareAlike (CC BY-SA 4.0) license  that allows others to share the work with an acknowledgement of the work's authorship and initial publication in this journal.
Authors are able to enter into separate, additional contractual arrangements for the non-exclusive distribution of the journal's published version of the work (e.g., post it to an institutional repository or publish it in a book), with an acknowledgement of its initial publication in this journal.
Authors are permitted and encouraged to post their work online (e.g., in institutional repositories or on their website) prior to and during the submission process, as it can lead to productive exchanges, as well as earlier and greater citation of published work (See The Effect of Open Access).