Pemanfaatan Refugia dalam Meningkatkan Produksi Tanaman Padi Berbasis Kearifan Lokal
Keywords:
refugia, natural enemy, rice production
Abstract
Sakir et al, 2018. Utilization of Refugia to Increase Rice Production Based on Local Wisdom. JLSO 7(1):97-105.

 

The purpose of this study was to determine the utilization of refugia as a natural enemy of rice pest organisms in order to increase rice production sustainably. The study was conducted on a 3-hectare plot of land in Pemulutan Ulu Village, Pemulutan District, Ogan Ilir Regency, South Sumatra. The types of refugia that were used: sunflowers (Helianthus annuus), sesame (Sesamum indicum), zinnia flowers (Zinnia sp), yellow ray  flower (Cosmos caudatus) and marigold flower (Tagetes sp). The exploratory method was used with a cross sectional approach to analyze the intensity of the existence of natural enemies and rice pest disruptors, thus correlating with rice production. Observations were carried out for 18 weeks at 3 points with an area of 3 hectares. The rice varieties were used Ciherang (points A and C) and IR 42 (point B). The results showed an intensity of abundance of natural enemies or predators as many as 378 while the intensity of pests was 54 animals. The yield of rice was 8 tons/hectare,  8.3 tons/hectare and C is 8.1 tons/hectare for point A, B and C respectively. Utilization of refugia in rice plants was able to increase rice production by 15.1%.
Abstract viewed = 848 times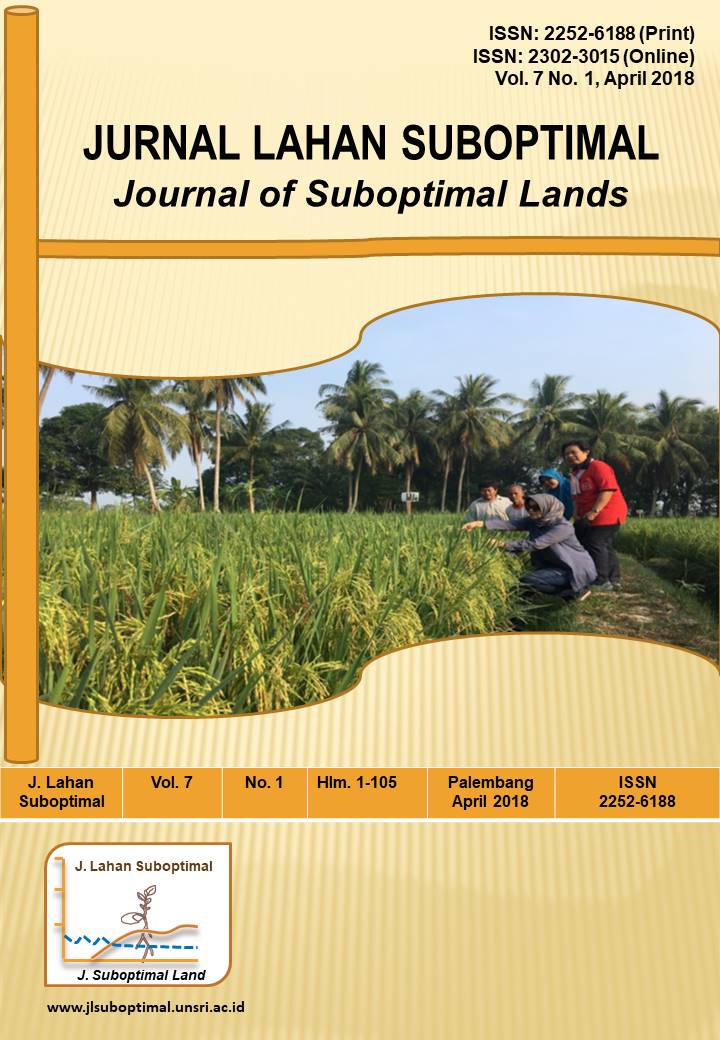 Downloads
How to Cite
Sakir, I. M., & Desinta, D. (2019). Pemanfaatan Refugia dalam Meningkatkan Produksi Tanaman Padi Berbasis Kearifan Lokal. Jurnal Lahan Suboptimal : Journal of Suboptimal Lands, 7(1), 97–105. https://doi.org/10.33230/JLSO.7.1.2018.367
License
Jurnal Lahan Suboptimal: Journal of Suboptimal Lands article's license is CC-BY-SA 4.0. This license lets others distribute, remix, tweak, and build upon author's work, even commercially, as long as they credit the original creation.
Authors who publish with this journal agree to the following terms:
Authors retain copyright and grant the journal right of first publication with the work simultaneously licensed under a Creative Commons Attribution License-ShareAlike (CC BY-SA 4.0) license  that allows others to share the work with an acknowledgement of the work's authorship and initial publication in this journal.
Authors are able to enter into separate, additional contractual arrangements for the non-exclusive distribution of the journal's published version of the work (e.g., post it to an institutional repository or publish it in a book), with an acknowledgement of its initial publication in this journal.
Authors are permitted and encouraged to post their work online (e.g., in institutional repositories or on their website) prior to and during the submission process, as it can lead to productive exchanges, as well as earlier and greater citation of published work (See The Effect of Open Access).