Perbandingan Pengaruh Beberapa Jenis Pupuk Mengandung Fosfat terhadap Kehilangan Hara Melalui Pelindian pada Tanah Gambut
Keywords:
peat, phosphate, leachate, leaching, nutrients, sorption
Abstract
Subiksa et al, 2018. Comparison Effect of Several Phosphate Contain Fertilizers to Nutrient Loss Trough Leaching on Peat Soil . JLSO 7(1):1-13.
 
Peat soil have specific nutrient adsorption characteristics which are affected by soil pH dependent charge. Therefore, nutrient management on such soil should be done using different approach compared to mineral soil. Research on the comparison effects of several types of phosphate containing fertilizers to nutrient loss through leaching on peat soil has been carried out in greenhouse using coulom experiments. The objectives of this study was to evaluate the rate of primary macro nutrient loss and look for fertilization technology which can reduced leaching rate. The study used a randomized block design of 14 treatments with 3 replications. The treatments were complete control treatment, partial control and 4 types of P contain fertilizer, namely SP-36, NPK compound, Chrismast Island Phosphate Rock (CIRP), and Pugam each of them with 3 levels dose. The peat soil used was ombrogenous peat with hemic maturity level taken from OKI Regency, South Sumatra. Watering is done every 2 days with 350 ml ion-free water/pot. The results showed that N and K nutrients leaching, mostly due to aplication rate of those nutrient, whereas type of fertilizer was not revealed significantly different. Meanwhile, P concentration in leachate water was significantly different among treatments. Leaching of P in the control treatment was very low because of P content of peat soil was low. The highest loss of P trough leaching rate is shown by the NPK treatment because NPK compound is belong to fast nutrient release fertilizer. CIRP and Pugam treatments showed low P loss trough leaching rates due to the slow release of P on CIRP and Pugam. The low leaching rates of CIRP and Pugam are also because of high content of Al and Fe as polyvalent cation that can promote new soil positive charges as site adsorption of P. It can be concluded that fertilization with a slow release type of phosphate fertilizer and contain sesquioxide as source of polyvalent cations such as CIRP and Pugam can reduced the rate of phosphate loss trough leaching.
< /br> Abstract viewed = 319 times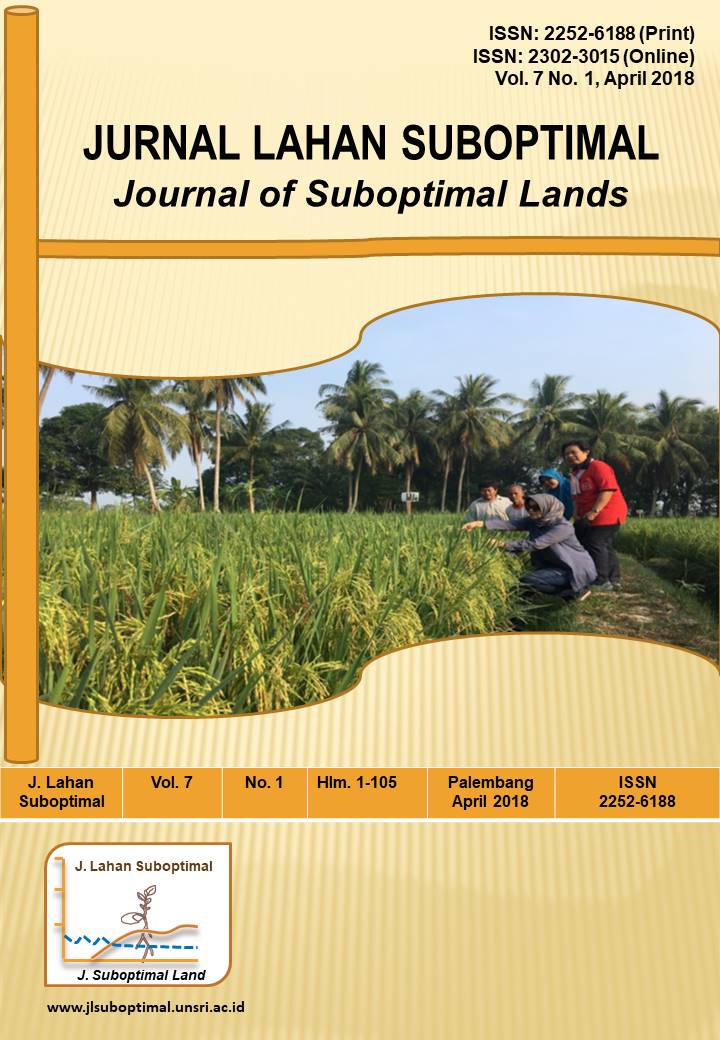 Downloads
How to Cite
Subiksa, I. (2019). Perbandingan Pengaruh Beberapa Jenis Pupuk Mengandung Fosfat terhadap Kehilangan Hara Melalui Pelindian pada Tanah Gambut. Jurnal Lahan Suboptimal : Journal of Suboptimal Lands, 7(1), 1–13. https://doi.org/10.33230/JLSO.7.1.2018.363
License
Jurnal Lahan Suboptimal: Journal of Suboptimal Lands article's license is CC-BY-SA 4.0. This license lets others distribute, remix, tweak, and build upon author's work, even commercially, as long as they credit the original creation.
Authors who publish with this journal agree to the following terms:
Authors retain copyright and grant the journal right of first publication with the work simultaneously licensed under a Creative Commons Attribution License-ShareAlike (CC BY-SA 4.0) license  that allows others to share the work with an acknowledgement of the work's authorship and initial publication in this journal.
Authors are able to enter into separate, additional contractual arrangements for the non-exclusive distribution of the journal's published version of the work (e.g., post it to an institutional repository or publish it in a book), with an acknowledgement of its initial publication in this journal.
Authors are permitted and encouraged to post their work online (e.g., in institutional repositories or on their website) prior to and during the submission process, as it can lead to productive exchanges, as well as earlier and greater citation of published work (See The Effect of Open Access).