Prediksi Potensi Air Tanah untuk Optimasi Sawah Tadah Hujan dalam Menunjang Ketahanan Pangan
Keywords:
food security, ground water, geoelectrical, rainfed rice field
Abstract
Yasar et al, 2017. Prediction of Ground Water Potential for Optimization of Rainfed Rice Field in Supporting Food Security. JLSO 6(2):170-175.
In Simeulue Island, that has the existed paddy field and generally of that is  rainfed. Recently, to irrigate the paddy field with that percentage is expected enough by natural meet of the necessity of paddy field by receiving the potential precipitation. However, rising of the climate change has caused paddy field activity is not fully runned by only utilizing the precipitation and utilizing the surface water, as irrigatiom water resource is not possible because of geological difficulty. This article aims to find a breakthrough related to the problem of irrigation water insufficiency through utilization of natural resource potency in Simeuleu Island. Presenting is descriptively done using primary data by way of field measurement and literature review to obtain a beneficiary of groundwater as irrigation water resource. Data acquiring in this research uses geoelectrical method by setting the Wanner-Schlumberger configuration of Resistiviti meter ARES. Data were obtained from one spread that was east-west oriented by having 460 m spread length and 20 m spacing interval. The coordinate of spread is at initial point N 02°25'14.2â€/E 96°18'12.2†and at final point N 02°25'43.9â€/E 96°18'27.1. Based on the 2D resistivity cross section shows that Situbok village (STB) is generally obtained a low resistivity value which is 2-100 Ωm in range and dominantly expected as alluvium. Low resistivity value can be estimated as a conductive layer (aquifer) which commonly consists of groundwater. On the cross section of resistivity value, the conductive layer is the layer which has the resistivity value less than 16 Ωm and laterally and vertically is existed at 240-360 m and 45-94 m, respectively.
< /br> Abstract viewed = 182 times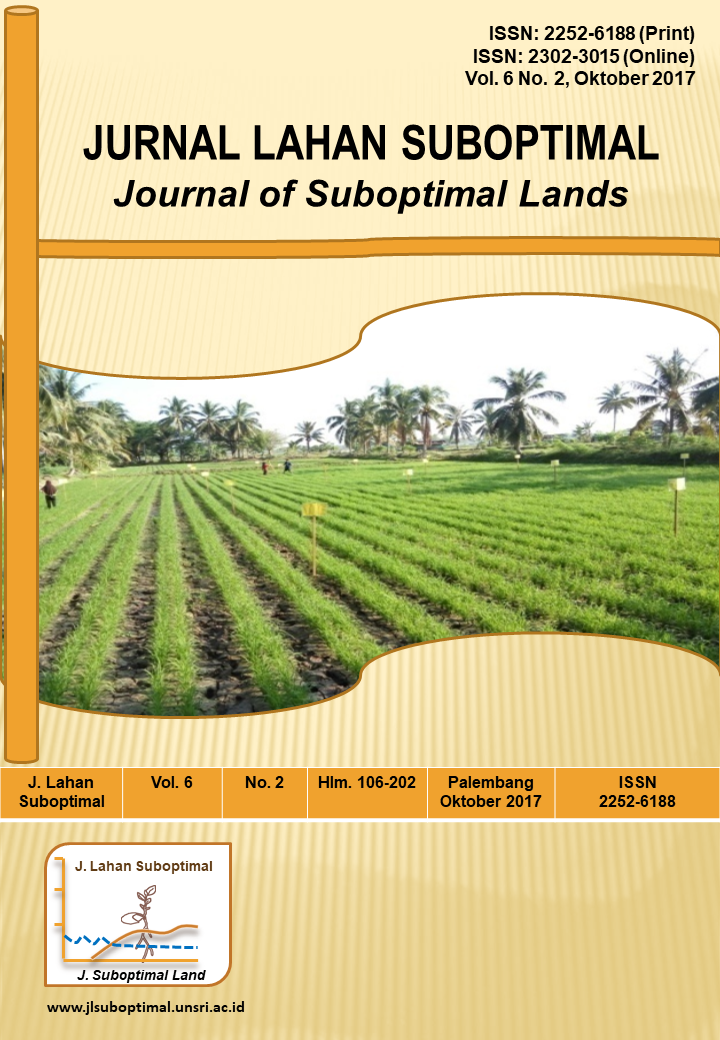 Downloads
How to Cite
Yasar, M., Mustaqimah, M., Yunus, Y., Mahfuddin, M., & Asrillah, A. (2018). Prediksi Potensi Air Tanah untuk Optimasi Sawah Tadah Hujan dalam Menunjang Ketahanan Pangan. Jurnal Lahan Suboptimal : Journal of Suboptimal Lands, 6(2), 170–175. https://doi.org/10.33230/JLSO.6.2.2017.290
License
Jurnal Lahan Suboptimal: Journal of Suboptimal Lands article's license is CC-BY-SA 4.0. This license lets others distribute, remix, tweak, and build upon author's work, even commercially, as long as they credit the original creation.
Authors who publish with this journal agree to the following terms:
Authors retain copyright and grant the journal right of first publication with the work simultaneously licensed under a Creative Commons Attribution License-ShareAlike (CC BY-SA 4.0) license  that allows others to share the work with an acknowledgement of the work's authorship and initial publication in this journal.
Authors are able to enter into separate, additional contractual arrangements for the non-exclusive distribution of the journal's published version of the work (e.g., post it to an institutional repository or publish it in a book), with an acknowledgement of its initial publication in this journal.
Authors are permitted and encouraged to post their work online (e.g., in institutional repositories or on their website) prior to and during the submission process, as it can lead to productive exchanges, as well as earlier and greater citation of published work (See The Effect of Open Access).