Penapisan Beberapa Padi Lokal dari Pulau Enggano Terhadap Ketahanan Salinitas
Keywords:
enggano, local paddy, preliminary screening, salinity
Abstract
Astuti et al, 2017. Screening of Several Local Rice from Enggano Island to Salinity Tolerance. JLSO 6(2):134-141. Enggano Island, Bengkulu Province, has a lot of local rice germplasm that has been cultivated by people in Enggano Island that is more than 30% as farmer. Identification of local rice from Enggano Island against biotic and abiotic stresses, especially salinity stress is necessary. The identification can be used, among other things, as the information of the local rice planting that related to the rising sea level in Enggano Island which impact on the condition and the area of rice cultivation land, and as a source of finding for resistance genes against salinity stress for improvement of those local rice varieties. Aim of this study is preliminary screening of some local rice from Enggano Island to salinity stress in seed and germination stages. The analysis used Factorial Randomized Design, two factors, the first factor  is salt concentration and and the second is local variety. The salt concentrations used were 0 millimolar NaCl, 250 millimolar NaCl, NaCl 275 millimolar and NaCl 300 millimolar and the rice sample used were 11 local rice of Enggano Island, NiponBare varieties as control of rice plants, Pokali as resistant control and IR29  varieties as susceptible controls. Rice seeds that used in this test are seed in seed stage and germination stage of 10-14 days old. This preliminary screening shows three local genotype of Enggano Island that tolerance to Salinity.
Abstract viewed = 131 times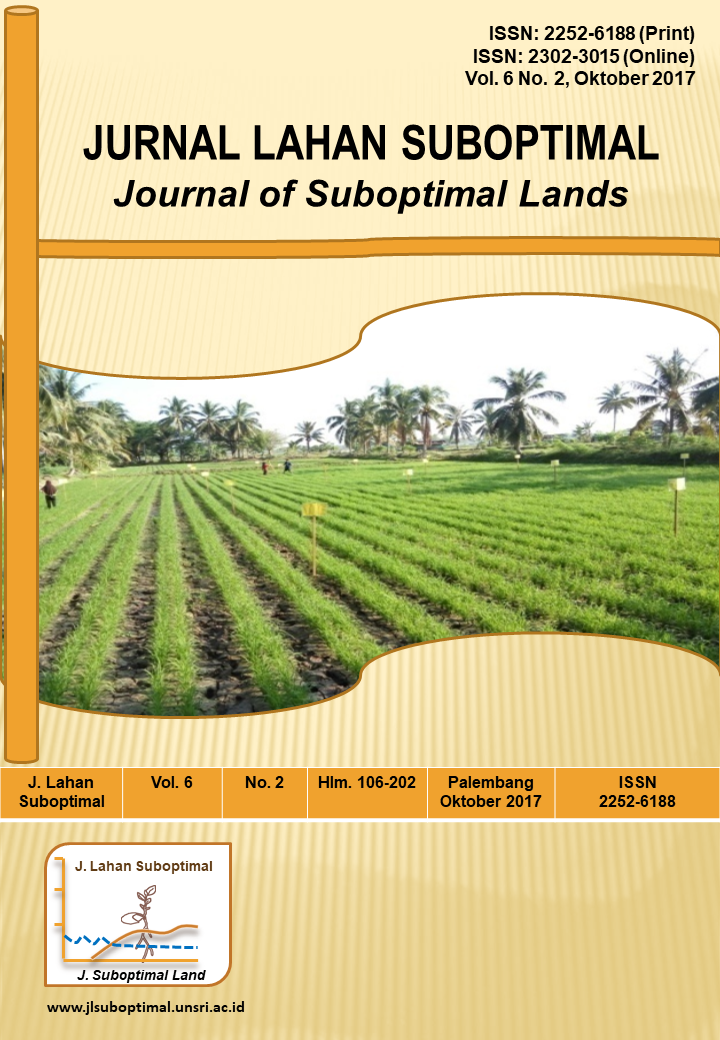 Downloads
How to Cite
Astuti, D., Nurhasanah, A. N., Nugroho, S., & Estiati, A. (2018). Penapisan Beberapa Padi Lokal dari Pulau Enggano Terhadap Ketahanan Salinitas. Jurnal Lahan Suboptimal : Journal of Suboptimal Lands, 6(2), 134–141. https://doi.org/10.33230/JLSO.6.2.2017.282
License
Jurnal Lahan Suboptimal: Journal of Suboptimal Lands article's license is CC-BY-SA 4.0. This license lets others distribute, remix, tweak, and build upon author's work, even commercially, as long as they credit the original creation.
Authors who publish with this journal agree to the following terms:
Authors retain copyright and grant the journal right of first publication with the work simultaneously licensed under a Creative Commons Attribution License-ShareAlike (CC BY-SA 4.0) license  that allows others to share the work with an acknowledgement of the work's authorship and initial publication in this journal.
Authors are able to enter into separate, additional contractual arrangements for the non-exclusive distribution of the journal's published version of the work (e.g., post it to an institutional repository or publish it in a book), with an acknowledgement of its initial publication in this journal.
Authors are permitted and encouraged to post their work online (e.g., in institutional repositories or on their website) prior to and during the submission process, as it can lead to productive exchanges, as well as earlier and greater citation of published work (See The Effect of Open Access).