Characteristics and Management of Peatland for Agricultural Development
Abstract
Ratmini, 2012. Characteristics and Management of Peatland for Agricultural Development. JLSO 1(2):197-206
The potential of peatland as agricultural land has area of about 6 M ha. The utilization of peatland in agriculture need detail and thorough planning, adequate technology application, and proper land management because its marginal and fragile ecosystem. Peatland is vulnerable to land degradation, namely physical degradation (subsiden and irreversible drying) and chemical degradation (nutrients deficiency and nutrients toxicity). The peatland development has obstacles such as highly content of organic acids. The effect of organic acid toxicity can be reduced by water (irrigation technology) management and adding ameliorant which rich of polivalent cation such as Fe, Al, Cu, and Zn. Soil amendment and fertilization in peatland farming can be done to reduce nutrients deficiency.
< /br> Abstract viewed = 55 times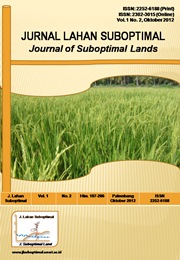 Downloads
How to Cite
Ratmini, N. S. (2013). Characteristics and Management of Peatland for Agricultural Development. Jurnal Lahan Suboptimal : Journal of Suboptimal Lands, 1(2). https://doi.org/10.33230/JLSO.1.2.2012.26
License
Jurnal Lahan Suboptimal: Journal of Suboptimal Lands article's license is CC-BY-SA 4.0. This license lets others distribute, remix, tweak, and build upon author's work, even commercially, as long as they credit the original creation.
Authors who publish with this journal agree to the following terms:
Authors retain copyright and grant the journal right of first publication with the work simultaneously licensed under a Creative Commons Attribution License-ShareAlike (CC BY-SA 4.0) license  that allows others to share the work with an acknowledgement of the work's authorship and initial publication in this journal.
Authors are able to enter into separate, additional contractual arrangements for the non-exclusive distribution of the journal's published version of the work (e.g., post it to an institutional repository or publish it in a book), with an acknowledgement of its initial publication in this journal.
Authors are permitted and encouraged to post their work online (e.g., in institutional repositories or on their website) prior to and during the submission process, as it can lead to productive exchanges, as well as earlier and greater citation of published work (See The Effect of Open Access).