Characteristics and Management of Peatland for Agricultural Development
Abstract
Ratmini, 2012. Characteristics and Management of Peatland for Agricultural Development. JLSO 1(2):197-206
The potential of peatland as agricultural land has area of about 6 M ha. The utilization of peatland in agriculture need detail and thorough planning, adequate technology application, and proper land management because its marginal and fragile ecosystem. Peatland is vulnerable to land degradation, namely physical degradation (subsiden and irreversible drying) and chemical degradation (nutrients deficiency and nutrients toxicity). The peatland development has obstacles such as highly content of organic acids. The effect of organic acid toxicity can be reduced by water (irrigation technology) management and adding ameliorant which rich of polivalent cation such as Fe, Al, Cu, and Zn. Soil amendment and fertilization in peatland farming can be done to reduce nutrients deficiency.
Abstract viewed = 84 times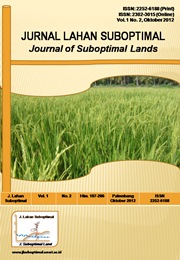 Downloads
How to Cite
Ratmini, N. S. (2013). Characteristics and Management of Peatland for Agricultural Development. Jurnal Lahan Suboptimal : Journal of Suboptimal Lands, 1(2). https://doi.org/10.33230/JLSO.1.2.2012.26
License
Copyright (c) 2013 N.P. Sri Ratmini
This work is licensed under a Creative Commons Attribution-NonCommercial-ShareAlike 4.0 International License.