The Improvement of Rice Postharvest Technology in Sub-Optimal Land
Keywords:
Rice, quality, technology, postharvest
Abstract
Hasbi. 2012. The Improvement of Rice Postharvest Technology in Sub-Optimal Land. PLSO 1(2):186-196.
Rice is the most exerted food crop commodity in Indonesia. Rice production has continuously been increased in order to support food security policy. Improvement of cultivation technology has been proved to increase rice production significantly.  Increase in rice production should be followed by the improvement of rice quality based on the standard and consumer preference. The improvement in  quality may also be enhanced by proper postharvest technology. Improvement of rice quality will result in more added value on rice. Therefore, proper technology which includes  production, harvest, and post harvest should be done in an integrated manner in order to increase  rice quality and at the same time decrease weight loss. Rice postharvest technology consists of harvesting, threshing, transportation, drying, cleaning and storage. These postharvest activities are often followed by  rice milling. However, farmers awareness and knowledge regarding  proper postharvest technology are lacking and its application is considered low. Improvement of postharvest handling technology should be prioritized to include three stages, which are  harvesting, threshing and drying due to high loss occured in these stages. The improvement  of harvest and postharvest technologies should incorporate human resource ability and  information dissemination based on the principles of Good Handling Practices (GHP).
Abstract viewed = 55 times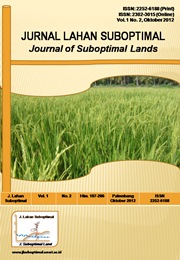 Downloads
How to Cite
Hasbi, H. (2013). The Improvement of Rice Postharvest Technology in Sub-Optimal Land. Jurnal Lahan Suboptimal : Journal of Suboptimal Lands, 1(2). https://doi.org/10.33230/JLSO.1.2.2012.25
License
Jurnal Lahan Suboptimal: Journal of Suboptimal Lands article's license is CC-BY-SA 4.0. This license lets others distribute, remix, tweak, and build upon author's work, even commercially, as long as they credit the original creation.
Authors who publish with this journal agree to the following terms:
Authors retain copyright and grant the journal right of first publication with the work simultaneously licensed under a Creative Commons Attribution License-ShareAlike (CC BY-SA 4.0) license  that allows others to share the work with an acknowledgement of the work's authorship and initial publication in this journal.
Authors are able to enter into separate, additional contractual arrangements for the non-exclusive distribution of the journal's published version of the work (e.g., post it to an institutional repository or publish it in a book), with an acknowledgement of its initial publication in this journal.
Authors are permitted and encouraged to post their work online (e.g., in institutional repositories or on their website) prior to and during the submission process, as it can lead to productive exchanges, as well as earlier and greater citation of published work (See The Effect of Open Access).