Mobilisasi Bibit Padi Unggul sistem Dapog antar Kabupaten Sebagai Alternatif Penyediaan Bibit Padi Guna Mendukung Percepatan Tanam Padi di Kalimantan Selatan
Keywords:
Dapog, mobilization, rice
Abstract
Sabur et al, 2016. Paddy Seed Superior mobilization Dapog system between the District as an Alternative Provision Paddy Seed to Support Accelerating Paddy Planting in South Kalimantan. JLSO 5(1):43-52.
Breeding technology using dapog can be an alternative for the provision of rice seeds that can be mobilized anywhere even distances. In application required correct technique when the rolls of rice seeds will be moved so that no damage, and rice seeds can be used for optimal planting. The purpose of this study was conducted to determine the proper technique for memindahan seeds to great distances that use dapog seedlings, and to know which crop performance in mobilization after two weeks grown in paddy fields. This activity was conducted in August 2016, the nursery of paddy system dapog carried out in the village of Bungur New District of Tapin Central Tapin district, the rice seedlings were transferred to the village of Pangambau Hulu subdistrict Haruyan Hulu Sungai Tengah with the distance of 69 km and takes about 1 hour and 25 minutes to then directly planted in paddy fields that had been prepared. The research method with direct observations and describe. From the observation data obtained as follows, 230 rolls of seeds brought, 222 rolls can be directly planted using planting machines Jarwo trasplanter. In addition the level of damage to a minimum or an average of 1.5%, while the highest damage is due to wither due to the distance and wind by 2% or 5 rolls of a total of 230 scrolls were brought, and position rolls of rice seedlings that much gain exposure is positioned on top of the pile. Vibrations caused by road conditions are not smooth when seedlings in mobilization also occurred on a roll topmost ditumpukan seedlings, the number of rolls fall apart as much as 2% or 5 reels. The rolls are oppressed due stacked seed and seedlings were damaged due to errors at the time of rolling 1%. Placements are set up well during the trip, and experienced technical personnel, making seed rolls only minimal shifting. Mobilization time better morning and the movement speed of the car attempted stable with an average speed of 40-60 km / h on a smooth path to reduce wind into rolls seed and on the bumpy roads the speed reduced to 10-20 km / h or adjust to the road conditions so that the vibration can be minimized.
< /br> Abstract viewed = 129 times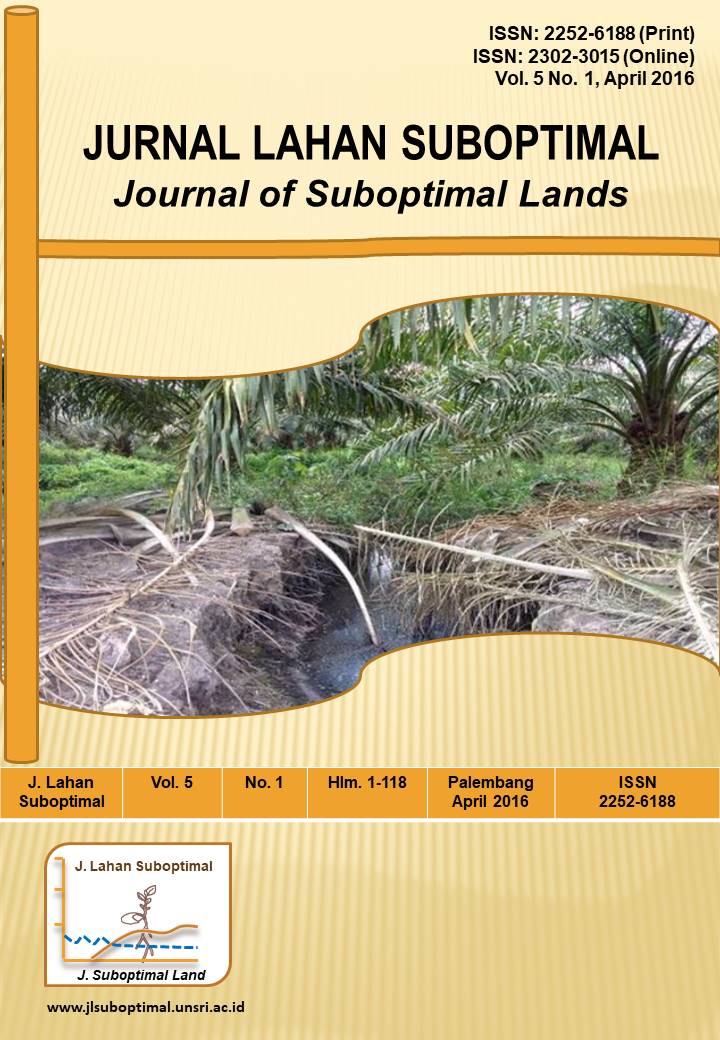 Downloads
How to Cite
Sabur, A., & Ratmini, P. S. (2017). Mobilisasi Bibit Padi Unggul sistem Dapog antar Kabupaten Sebagai Alternatif Penyediaan Bibit Padi Guna Mendukung Percepatan Tanam Padi di Kalimantan Selatan. Jurnal Lahan Suboptimal : Journal of Suboptimal Lands, 5(1), 43–52. https://doi.org/10.33230/JLSO.5.1.2016.212
License
Jurnal Lahan Suboptimal: Journal of Suboptimal Lands article's license is CC-BY-SA 4.0. This license lets others distribute, remix, tweak, and build upon author's work, even commercially, as long as they credit the original creation.
Authors who publish with this journal agree to the following terms:
Authors retain copyright and grant the journal right of first publication with the work simultaneously licensed under a Creative Commons Attribution License-ShareAlike (CC BY-SA 4.0) license  that allows others to share the work with an acknowledgement of the work's authorship and initial publication in this journal.
Authors are able to enter into separate, additional contractual arrangements for the non-exclusive distribution of the journal's published version of the work (e.g., post it to an institutional repository or publish it in a book), with an acknowledgement of its initial publication in this journal.
Authors are permitted and encouraged to post their work online (e.g., in institutional repositories or on their website) prior to and during the submission process, as it can lead to productive exchanges, as well as earlier and greater citation of published work (See The Effect of Open Access).