Pemberian Kompos Azolla microphylla pada Pertumbuhan Bibit Karet (Hevea brasiliensis) Okulasi
Keywords:
Azolla microphylla compost, dose, rubber seeds mini stump
Abstract
This research aimed to study the effect of the Azolla microphylla compost on thegrowth of PB-260 clone rubber seedlings mini stump. This research has beenconducted atAgriculture Faculty, University of Riau starting from April to July 2013. The research wascarried out experimentally using completely randomized design non factorial consisting of4 treat ments and 3 replications, obtained 12 experimental units and each unit consists of3 seeds so that total earned is 36 rubber seedlings and as sample 2 seedlings per unitexperiment. Compost treatment given to the provision of treatment levels; 0, 15, 30 and45 g/polybag (0, 10, 20 and 30 ton/ha) mixed by weighing soil 3 kg (polybag size 20 cmx 40 cm). The data were statistically analyzed using ANOVA, followed by DNMRT at thelevel of 5%. Parameters observed are lenght of grafting (cm), stem graft girth (cm),number of leaves (sheet), leaf area (cm²) and shoot root ratio (g). Giving A. microphyllacompost on growing mini stump rubber seedling significantly effect on extending the graftand number of leaves. Meanwhile, for stem graft girth, leaf area and shoot root ratio revealnot significant. Compost dosing 30 g/polybag shows the best results for the growth ofrubber seedlings mini stump compared them 0, 15 and 45 g/polybag
Abstract viewed = 58 times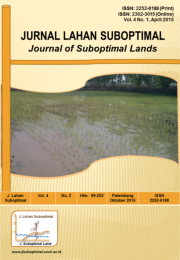 Downloads
How to Cite
Sari, I. M., Sampoerno, S., & Khoiri, M. A. (2016). Pemberian Kompos Azolla microphylla pada Pertumbuhan Bibit Karet (Hevea brasiliensis) Okulasi. Jurnal Lahan Suboptimal : Journal of Suboptimal Lands, 4(2), 110–117. https://doi.org/10.33230/JLSO.4.2.2015.154
License
Jurnal Lahan Suboptimal: Journal of Suboptimal Lands article's license is CC-BY-SA 4.0. This license lets others distribute, remix, tweak, and build upon author's work, even commercially, as long as they credit the original creation.
Authors who publish with this journal agree to the following terms:
Authors retain copyright and grant the journal right of first publication with the work simultaneously licensed under a Creative Commons Attribution License-ShareAlike (CC BY-SA 4.0) license  that allows others to share the work with an acknowledgement of the work's authorship and initial publication in this journal.
Authors are able to enter into separate, additional contractual arrangements for the non-exclusive distribution of the journal's published version of the work (e.g., post it to an institutional repository or publish it in a book), with an acknowledgement of its initial publication in this journal.
Authors are permitted and encouraged to post their work online (e.g., in institutional repositories or on their website) prior to and during the submission process, as it can lead to productive exchanges, as well as earlier and greater citation of published work (See The Effect of Open Access).