Aplikasi Formulasi Pakan Seimbang untuk Mendukung Peternakan Itik Petelur Ramah Lingkungan
Keywords:
balanced feed, formulation, software
Abstract
Feed is a major factor in the business of laying ducks. Approximately 70% of the production is to feed. Therefore, to get optimum benefit, feed must be efficiently formulated. To efficient, feed must be balance, the content of feed nutrients must be in accordance with the needs of livestock, so the remaining nutrients out of feed is a minimum. In addition to efficient, balanced feed can also reduce environmental pollution. Waste produced from farm can be a source of contamination of water or wells, if there is no further waste management. One of the consequences of water pollution by livestock waste nitrogen levels are rising. To simplify and accelerate the balanced feed formulations required a software application. This paper aims to introduce balanced feed formulation based software. Application software consists of three main parts, namely database, data processing and results. Simulations conducted on laying ducks feed on the production period. Two types of feed used in this simulation, namely: regular feed (PB) and balanced feed (PS). Each type of feed is repeated five times. Simulation results with the feed formulation software application show significant difference between PB and PS feed. PS is better than PB. Application of balanced feed formulation can be used to support environmentally friendly farming laying ducks.
Abstract viewed = 71 times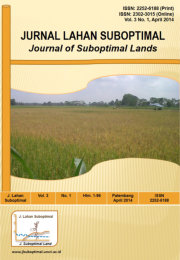 Downloads
How to Cite
Prabowo, A., & Susanti, A. E. (2015). Aplikasi Formulasi Pakan Seimbang untuk Mendukung Peternakan Itik Petelur Ramah Lingkungan. Jurnal Lahan Suboptimal : Journal of Suboptimal Lands, 3(1). https://doi.org/10.33230/JLSO.3.1.2014.105
License
Jurnal Lahan Suboptimal: Journal of Suboptimal Lands article's license is CC-BY-SA 4.0. This license lets others distribute, remix, tweak, and build upon author's work, even commercially, as long as they credit the original creation.
Authors who publish with this journal agree to the following terms:
Authors retain copyright and grant the journal right of first publication with the work simultaneously licensed under a Creative Commons Attribution License-ShareAlike (CC BY-SA 4.0) license  that allows others to share the work with an acknowledgement of the work's authorship and initial publication in this journal.
Authors are able to enter into separate, additional contractual arrangements for the non-exclusive distribution of the journal's published version of the work (e.g., post it to an institutional repository or publish it in a book), with an acknowledgement of its initial publication in this journal.
Authors are permitted and encouraged to post their work online (e.g., in institutional repositories or on their website) prior to and during the submission process, as it can lead to productive exchanges, as well as earlier and greater citation of published work (See The Effect of Open Access).