Performance of New Superior Variety of Rice and its Feasibility in Rainfed Rice Lowland of South Sumatra
Keywords:
Inpari 30, Inpari 43, IR 42, new superior variety, rain fed rice lowland
Abstract
Rainfed lowland has great potential to produce rice in South Sumatra Province. Rice cultivation in such marginal lowland needs technological innovation for sustainable use. This study aimed to analyze the crop performance and farming feasibility of a New Superior Variety (VUB) in rainfed rice cultivation. The study was carried out on 2019/2020 in Tugu Jaya Village, Lempuing District, OKI Regency. It was implemented in a demonstration plot of rice cultivation covering 2 hectares, using Inpari 30 and 43 varieties. The plant spacing was in accordance with 2:1 "jajar legowo" planting system. This was compared to the tile planting system outside the demonstration plot using IR 42 variety, which was planted by the local farmers. The results of observations of plants' performance one day before harvest showed that the tallest plant was IR 42 (109.1 cm), the most tillers were from Inpari 43 (19.7 tillers), the longest panicle was of IR 42 (25.1 cm) and the highest harvested crop grain production was from Inpari 30 (6.8 tonnes/ha). In terms of business feasibility, judging from the resulting production and financial indicators, all three varieties were suitable for planting in rainfed lowland. Furthermore, of the three varieties, Inpari 30 on MH 2019/2020 was the most feasible, with a break-even price (BEPr) of Rp. 3,983 per kg; break-even production (BEP) of 1,568 kg per hectare; revenue cost ratio (R/C) of 2.39 and Marginal Benefit-Cost Ratio (MBCR) of 6.96.
< /br> Abstract viewed = 9 times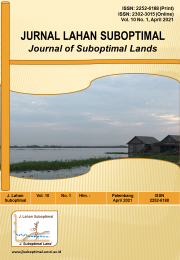 How to Cite
Yeni E. Maryana, Herwenita Herwenita, & Y. Hutapea. (2021). Performance of New Superior Variety of Rice and its Feasibility in Rainfed Rice Lowland of South Sumatra . Jurnal Lahan Suboptimal : Journal of Suboptimal Lands, 10(1). https://doi.org/10.33230/JLSO.10.1.2021.546
License
This work is licensed under a Creative Commons Attribution 4.0 International License.
Jurnal Lahan Suboptimal: Journal of Suboptimal Lands article's license is CC-BY-SA 4.0. This license lets others distribute, remix, tweak, and build upon author's work, even commercially, as long as they credit the original creation.
Authors who publish with this journal agree to the following terms:
Authors retain copyright and grant the journal right of first publication with the work simultaneously licensed under a Creative Commons Attribution License-ShareAlike (CC BY-SA 4.0) license  that allows others to share the work with an acknowledgement of the work's authorship and initial publication in this journal.
Authors are able to enter into separate, additional contractual arrangements for the non-exclusive distribution of the journal's published version of the work (e.g., post it to an institutional repository or publish it in a book), with an acknowledgement of its initial publication in this journal.
Authors are permitted and encouraged to post their work online (e.g., in institutional repositories or on their website) prior to and during the submission process, as it can lead to productive exchanges, as well as earlier and greater citation of published work (See The Effect of Open Access).