The Potential of Nutmeg's Microbes (Myristica fragrans Houtt.) as Antagonistic Agents against Rigidoporus microporus
Keywords:
Bacillus aerius, Bacillus subtillis, chitinase enzymes, hemolysis
Abstract
This study aimed to obtain yeast and bacteria from Myristica fragrans Houtt., which have the potential to produce chitinase enzymes with antagonistic ability against Rigidoporus microporous. Both microorganisms were extracted from the leaves and fruit of nutmeg. A total of 35 yeast and 29 bacterial isolates were obtained, with different morphological characters. The chitinolytic test was carried out qualitatively, and the parameters observed include the clear zones around the colony. A total of 4 bacterial isolates produced chitinase enzymes (BP 1.2.1, BP 2.1.1, EPBj II.K1, and EPBj II. K2) with a chitinolytic index of 3.92, 5.38, 2.00, and 1.66, respectively. Yeast isolates were negative for chitinase enzymes. The difference in index value indicated a variation in enzyme activity. The antagonist test was carried out using a dual culture method. A total of 1 yeast and 14 bacterial isolates inhibited the growth of R. microporous, and each has a different inhibitory zone. Based on the percentage of inhibition value, the highest percentage occurred in P.K1(41.1%), P. K2 (50%), dan EPBj II. K6 (42.2%). The antagonist test indicator includes the formation of inhibitory zones on the medium. Hemolysis test showed that yeast and bacteria are not able to break down blood cells in the medium. The molecular identification showed that P. K1 and P. K2 isolates were classified as Bacillus subtillis and EPBj II. K6 were identified as Bacillus aerius with 100% sequence homology and 99% bootstrap value respectively. These findings provided information about potential microbes that control white root fungus.       
< /br> Abstract viewed = 107 times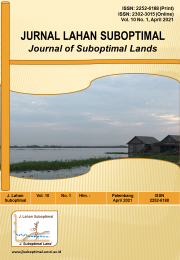 How to Cite
Dwi N. Susilowati, Sri Rahayuningsih, Indah Sofiana, & Nani Radiastuti. (2021). The Potential of Nutmeg's Microbes (Myristica fragrans Houtt.) as Antagonistic Agents against Rigidoporus microporus. Jurnal Lahan Suboptimal : Journal of Suboptimal Lands, 10(1). https://doi.org/10.33230/JLSO.10.1.2021.529
License
This work is licensed under a Creative Commons Attribution 4.0 International License.
Jurnal Lahan Suboptimal: Journal of Suboptimal Lands article's license is CC-BY-SA 4.0. This license lets others distribute, remix, tweak, and build upon author's work, even commercially, as long as they credit the original creation.
Authors who publish with this journal agree to the following terms:
Authors retain copyright and grant the journal right of first publication with the work simultaneously licensed under a Creative Commons Attribution License-ShareAlike (CC BY-SA 4.0) license  that allows others to share the work with an acknowledgement of the work's authorship and initial publication in this journal.
Authors are able to enter into separate, additional contractual arrangements for the non-exclusive distribution of the journal's published version of the work (e.g., post it to an institutional repository or publish it in a book), with an acknowledgement of its initial publication in this journal.
Authors are permitted and encouraged to post their work online (e.g., in institutional repositories or on their website) prior to and during the submission process, as it can lead to productive exchanges, as well as earlier and greater citation of published work (See The Effect of Open Access).